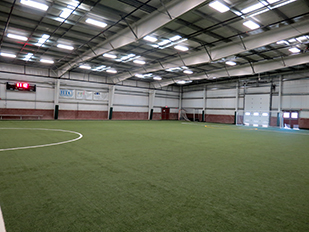 Advanced Sportsplex
Owner Glen Rowland has been a longtime coach and turned the 38,000-square foot former roller hockey rink on Newfield Street into a climate-controlled athletic field complex to hold youth and adult leagues, instruction, clinics, birthday parties and conferences. The facility includes a turf field, a 10,000-square foot area for speed and agility training, practice and warm-up areas, batting cages and a lounge area.
Advanced Sportsplex allows coaches and instructors to utilize the facility to run clinics or camps, such as batting or pitching instruction, speed and agility programs and sport-specific training.
"We have people come in and do the mental aspect of the game and [recruitment coaches] who help people with trying to play sports in college, how to sell yourself, how to talk to coaches and how to put together a package and a video of your skills," Rowland said.
Rowland is always open to new ideas and programs, which means the program offerings at Advanced Sportsplex is always evolving. Recently, the facility added dance, cheerleading and Zumba programs.
"We always try to think outside the box and come up with some new things and see what sticks," Rowland said. "If someone comes to me with an idea, I say 'Yes, let's do it,' and see if it kicks in."
There are leagues currently forming in adult and youth soccer, middle and high school lacrosse, girls softball and youth tackle football. There are also travel baseball and softball leagues forming. Interested participants can register online at
www.advancedsportsplex.com
. Athletes can also purchase memberships to Advanced Sportsplex for added benefits.
For more information on Advanced Sportsplex Training Center, 1280 Newfield St., Middletown, contact 860-632-2900 or
glenn@advancedsportsplex.com
. For a complete list of program offerings, visit
www.advancedsportsplex.com
.