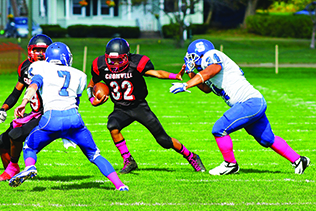 Maturing Panthers Post Third-Straight Win
"This season is a marathon, not a sprint, and we keep getting better," head coach Chris Eckert said after his Panthers (3-1) thwarted everything Pequot North foe Stafford/East Windsor (0-4) tried en route to securing their third-straight victory by soundly defeating the Bulldogs, 37-0.
Cromwell, whose roster sports twice as many underclassmen as upper class members, has had to grow up quickly this season.
Sophomore quarterback Mavric Pelletier showed his maturity in directing a balanced attack that saw the Panthers cross the goal line five times and score in each quarter. Pelletier finished the game with 189 yards on 14-22 and two touchdown passes. He also carried the ball five times for 71 yards.
Cromwell grabbed a 7-0 lead on a 32-yard touchdown pass to sophomore Jarius Bailey (seven catches/98 yards) and the first of four Mike McNally conversion kicks 3:08 into the game. McNally added a 47-yard field goal five minutes later to pad the Cromwell lead.
Juniors Nate Palambiano and Isaiah Cain helped spring the Cromwell ground game in the second stanza, with backfield underclass mates Kristian Sapp and Nelson Carlson taking advantage on scoring jaunts of 26 and eight yards, respectively, to send Cromwell into halftime comfortably up 24-0. Sapp rolled up 167 yards on 14 carries.
Pelletier connected with Emir Cirkovic in the third period on a 20-yard scoring strike before Carlson added his second touchdown run, from 16 yards out, with just under nine minutes left to play.
The Panthers' defense also made its presence felt throughout the afternoon. Cirikovic rattled quarterback Kyle Matthieu, while seniors Noah Yankowski and Jonathan Weaver, along with Palambiano, bottled up the Bulldogs' Davin Ware and Adrian Perkins, yielding little running room.
"Our number twos forced into starting roles this week really stepped up and played tough from the first snap to the end," Eckert said. "I think at times earlier this season we got a lead and just kind of sat on it and waited until the scoreboard got to triple zero. In this game we continued to get better and continued to move the ball and score throughout the duration of the game.
"Mavric Pelletier made some good reads out there and he threw the ball exactly where we coached him to throw it," Eckert continued. "Jarius Bailey had a heckuva game as a receiver. Our offensive line dominated the line of scrimmage and Nelson Carlson and Kristian Sapp ran the football very hard.
"As for our defense, well, the scoreboard tells everything. When you hold a team to zero points and close to very little yardage, you know you had a very good game. They were flying to the football. They were making tackles for losses. We're very proud of their efforts.
"The coaches put together a good game plan so we knew where we could take advantage of Stafford/East Windsor on offense and defense. You put a game plan in and it's up to the kids to execute it, and they did a good job today," according to Eckert.
"We stressed that Stafford/East Windsor was coming in a 0-3 and we were coming in with two victories in a row. All things being equal, this could be a trap game for us, being they're 0-3 and we might sleep on them, but we didn't.
"We have a bye and in two weeks, we play Windsor Locks. We'll spend our time practicing and getting better to beat them. We'll focus on that for the next 10 days. We're tied for first in our division with Windsor Locks, so it's going to be a battle," Eckert said.