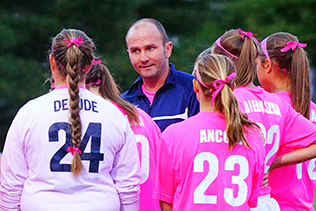 Wilkinson's Young Indians Holding their Own
Twelve games in, the Wethersfield resident is satisfied with the way the Indians' season has progressed and the team's 6-4-2 record.
"Coming in, I didn't have any idea of the chemistry of the team. What I knew was that I had some talented, albeit young, players in the program. As the season has gone on, I've realized that the CCC West is by far the most competitive of the four divisions and there are very few 'gimme' games. With that being said, the girls have coped very well and have held their own in all games. Our main problem has been consistency and killing off games. So far, we've taken the lead in nine of our 12 games, yet have only won six of those nine despite out-shooting most of our opponents. I'll chalk it up to having a young team and hopefully it stands us in good stead for the future," said Wilkinson.
"As far as systems of play, I require my players to work hard. It doesn't matter how talented or raw you are, everyone can work hard. I also like my players to be flexible in the formations and styles they can play. Not every game is going to pretty. Sometimes playing 'ugly' is what's required. Theoretically, I'd like my teams to get the ball down and beat teams with combination play and movement off the ball, but not every game works like that, particularly in high school, so I try to have my teams be able to adapt their games as the situation dictates.
"Going forward, we have lots of options that include depth, speed, strength and technique with a young but talented midfield that can supply them. Defensively, I have introduced a new system that players have taken a little time to adapt to. Couple that with not having the same depth as I do in my midfield and attacking ranks, and a few injuries have left us short in a few games," according to Wilkinson, whose soccer resume includes playing professionally as a defender for Rochdale United Football Club in England and the Massachusetts Pioneers.
"Over the past few games, the players have settled into the new system and have come to look very solid and increasingly difficult to break down. I've gotten a great goal scoring output from my front three-- Kaila Lozada (nine goals), Brooke Hellman (five goals) and Mackenzie Luiz (five goals) and several assists from Juliana Santos in midfield who will always grab the headlines --but the midfield and defensive players behind them doing the 'grunt work,' as I like to call it, are equally important to the team."
The Indians started the season with a 3-0 win over Bristol Central with Lozada, Kayla Larose and Hellman each finding the net. A 1-0 win over Simsbury followed before Wilkinson and company faced another Indians squad, from Farmington, with the FHS Indians prevailing, 6-1. Eight games later, Newington and Farmington met again, this time under the Alumni Field lights. Luiz put the NHS Indians up 1-0 with a goal eight minutes into the second half of the rematch Oct. 9. The game ended up deadlocked when Farmington scored the equalizer 11 minutes later. The Indians continued their tough play Oct. 11, with the host Hall Warriors needing overtime to secure a 1-0 victory.
Wilkinson, who authored an outstanding collegiate soccer career at Central Connecticut State University (1993-96) on a full scholarship, etched his name in the CCSU record book for most career appearances (80) and most career starts (78).
"CCSU was my opportunity to keep playing and get an education at the same time, and head coach Shaun Green's summer camps were probably my first introduction to coaching," Wilkinson said. "CCSU certainly opened up the path to coaching for me through the connections I made there."
While at Central, Wilkinson met Steve Coxon, a former player who was coaching West Hartford Travel, and he became Coxon's assistant. Wilkinson then reunited with former CCSU athletic trainer Paul Halford for a four-year stint with World Class Premier in Windsor before Coxon's offer to come on board with the Connecticut Wolves proved too good to refuse. The Connecticut Wolves, which got its start as a premier club for girls back in 1999, has evolved into Connecticut Football Club, a full service soccer club for boys and girls that offers programs to players of all levels from women's and men's semi-professional teams to Youth Developmental Programs. Wilkinson has been a part of CFC for a dozen years, coaching girls' teams.