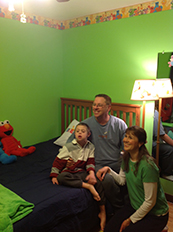 Cromwell Boy Receives Bedroom Makeover
CROMWELL - Benjamin Cantwell, an Edna C. Stevens School student who lives in Cromwell with his parents Laurie and Ernie, received a complete bedroom makeover this past month. Knights of Columbus Desoto Council #6 of Cromwell was the driving force behind this project.
With help from the St. John's Church Women's Group, Benjamin, an eight-year-old boy with Down syndrome, was given his dream room. Many Knights members were involved in the makeover, starting the week before the event to assemble the large book case and again on the day of the event to paint, install the bookcase and a mirror and move all the furniture back into the room.
Council #6 has been involved in many charitable events in the over 130 years of existence. The St. John's Women's Group was in charge of selecting all the décor and accessories with the help of Benjamin's mother. They also installed the border, bedding, drapes, blinds and accessories.
"When we were originally contacted by the Knights of Columbus, as well as the St. John's Women's Group, we were overwhelmed by their generous offer for our son Benjamin to be the recipient of a bedroom makeover. It was very exciting these past few weeks working with both groups on all the planning for the makeover. They were very kind and allowed us to help in picking out the paint, border, etc. They wanted to make sure everything would look just perfect, and they succeeded," said Laurie and Ernie Cantwell after the makeover.
"There are no words to accurately express how incredibly grateful we are to the members of the Cromwell Knights of Columbus and the wonderful women in the St. John's Women's Group. We are especially grateful to those who donated so much of their time and energy working on this project and gave up two days to work on Benjamin's room," the Cantwells added. "We are deeply touched by everyone's kindness and generosity. Our son Benjamin is overjoyed with his new special Sesame Street bedroom, and it warms our hearts to see how happy this has made him. We thank everyone who was involved in the project from the bottom of our hearts. We feel so lucky to live in a community where people go out of their way to make a difference and improve other people's lives. This has been an incredible experience and we will be forever grateful to everyone who helped make this happen. We certainly have a lot to be thankful for this Thanksgiving"