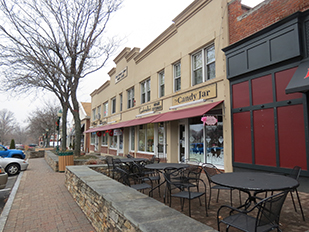 Shoppers Go Local on Small Business Saturday
NEWINGTON - Thanksgiving was barely over before customers flocked to box chains such as Wal-Mart and Target for the commencement of Black Friday sales, but businesses in downtown Newington had a little extra for those that waited a little longer to start their holiday shopping.
This past Saturday was Small Business Saturday, an annual tradition sponsored by, ironically, a big business--American Express. But in Newington, shop owners have taken a little extra initiative this year, launching their own promotional campaign characterized by the Shop Small fliers in the windows of participating businesses.
And that little extra?
"There's a lot of pride with the people that work there [at small businesses], because they accomplish quite a bit," said Piera Rosini, owner of The Black Rose Restaurant in Market Square on Main Street.
At the Black Rose, these accomplishments include navigating a slew of in-house recipes, Rosini said.
"We learn every recipe," she said. "Everything is fresh, from our salad dressings to our meat. We buy everything from the Newington Meat Market."
That's what local business is all about--supporting other members of your community, Rosini said.
"I believe it's crucial in these days of large chains," she said. "I'm not just talking about myself. If you need a bike, go to a small business and get a bike."
Christmas items are at the top of many shopping lists in the post-Thanksgiving weeks, and Himalayan Gifts, which sells everything from tree ornaments to sculptures of Buddhist and Hindu deities, puts its own touch on the holiday.
"Those are popular," said Shiva Neupeu, whose mother, Binda, owns Himalayan Gifts, of the wall full of ornaments in their small shop. "We're trying to introduce them in town so people don't have to go to the mall--it's a lot of hustle and bustle."
What customers get for buying their tree decorations at Himalayan Gifts is a personal touch--ornaments can be customized to read a person's name, Neupeu said.
Whether its ornaments or food recipes, this is one thing you cannot get shopping at big box chains, Rosini said.
"How many chains can you go to and talk to the owner?" she said.
She has a point. I doubt that I could walk into Wal-Mart and have a chat with a member of the Walton family.
"When you have a small business, you have the face of the owner," Rosini said. "You have the accountability of the owner."
One thing enterprises like Rosini's is lacking, however, is the funds for wider-scale promotion--hence, the purpose behind an event like Small Business Saturday.
"We're looking to pay our employees and pay our rent," she said. "The mom and pop stores don't have the financial backing of the chain stores and that puts them at a disadvantage."
And speaking of employees…
"We are the backbone of the economy," Rosini said. "Statistically, we employ the most."
Ninety-nine percent of all businesses in the United States are mom and pop enterprises, according to Leon Davidoff, owner of the Paper Station on East Cedar Street.
"Between 60-80 percent of new jobs in the U.S. can be attributed to small businesses," Davidoff said, citing statistics from the U.S. Small Business Administration Office of advocacy.