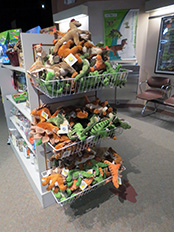 Dinosaur State Park Has Gifts, Programs for the Holidays
Though snow may cover the park's many trails, there's plenty to be found inside the dome in the Friends' Bookshop and new Discovery Room. Dinosaur enthusiasts will find a selection of books for children and adults, several of which are from local authors or focus on dinosaurs believed to inhabit this area. Rocks and minerals from around Connecticut and fossils from around the world are available, as well as gem stones and jewelry, both overtly dinosaur-themed and pieces that are more subtle.
The shop, which started exclusively as a book store and expanded to carry many unique gifts, has trinkets and toys for any budget, ranging from small figures to high-end dinosaur models, glasses, posters and small accessories.
Just beyond the gift shop, Dinosaur State Park's Discovery Room has a wall-length natural history cabinet display and drawers containing rocks and minerals that children can touch.
Also in the Discovery Room, visitors can meet the park's residents "mascots," Hermes the Ball Python and Blue the skink.
Dinosaur State Park is offering a number of school vacation week programs this winter, including crafts, films and a naturalist program called "Track Talk" or an animal demonstration. On Friday, Dec. 27, at 1 p.m., "A Place Called Hope" will present a live bird show, featuring a number of live hawks and owls. Ticket sales begin at 9 a.m. the day of the show, which is recommended for ages five and older. For more information on these programs, visit
www.ct.gov/deep/dinosaurstatepark
or call 860-529-8423. Dinosaur State Park is located at 400 West St., Rocky Hill.