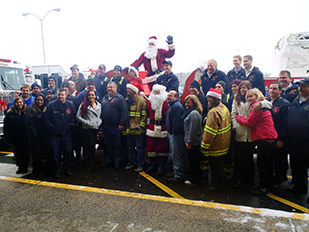 Cromwell Fire Department Holds Annual Santa Run
CROMWELL - On Saturday, Dec. 14, the annual Santa Run, hosted by the Cromwell Fire Department, went off, despite the down falling snow. For some, it even set the mood for holiday cheer.
The "run" is an annual event in which the Cromwell Fire Department members, decked out in all their holiday cheer, cover the entire town to collect unwrapped gifts and food for the Cromwell Human Services Department located at our town hall. The event is usually a casual ride around town, with Santa present on the well-decorated truck, handing out candy canes to the citizens of the community, both young and old.
This year's snow didn't dampen anyone's spirits, as the department was able to donate a significant amount of gifts to Town Hall and just over $600 to the town's fuel bank. The members enjoyed spending time with the participants as we made a quick run through many of our local malls and shops, collecting for the less fortunate. The department was able to deliver two full ambulances and a staff truck full of good will and cheer at a time when those in our community needed it the most.
There are many groups that hold toy and food drives to help out the community and the department just wants to do its share. The annual event could not be possible without mentioning many of our supporters, such as the Downtown Merchants Association, Chicago Sam's, Fox Glen, Rook Retirement Community, Johnson's Realty, Wal-Mart, Edgewood Party Rental, Covenant Village, Adelbrook and each and every citizen for their generous donations along with all the members that donate their time and effort to make this happen. During the event, the members responded to five medical emergencies and three fire calls and were able to keep the Santa Run rolling!