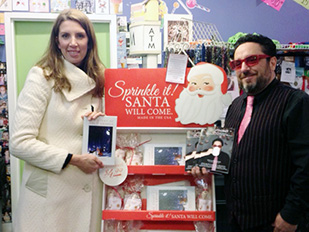 Authors with Wethersfield Ties Visit Holidays on Main
WETHERSFIELD - If you stopped by the Wethersfield Creamery during Old Wethersfield's Holidays on Main two weeks ago, you would have had a chance to meet two authors--one of an inspiring children's book, and another with some perspective on workplace communication.
They both brought two very different themes, but what the two have in common is their Wethersfield roots--Alice Cosgrove, author of The Story of Magic Kringle, has family in Wethersfield, and Robert Galinsky, motivational speaker and the mind behind Coffee Crazy, grew up in town. Both were born in Hartford.
"I'm really excited to be here," Cosgrove said from her table of books that sat in front of the Creamery's counter. "Old Wethersfield is cool because there are so many good places. I think the key to life is having someone convey your story and a community does that, whether they mean to or not."
Cosgrove herself probably does the best job, however, because her story is one that is personal. Her book is about a child who is displaced, with his mother, right before Christmas. His main concern? Ensuring that Santa and his sleigh are able to find them at their new residence.
For Cosgrove, this narrative is close to home--she and her young son were displaced around the time she started writing the book. That's why she invented the product Magic Kringle, a potion that is supposed to assure children that Santa will find them if they throw it on the ground of their location on Christmas Eve.
At a table next to Cosgrove sat Galinsky, the now New York City-based motivational speaker and author of the upcoming musical titled Coffee. Galinsky is carving out a niche for himself around the concept of coffee, as his book Coffee Crazy, a collection of Twitter post-sized pieces of advice and commentary, shows.
"Coffee has such a place in the workplace," Galinsky said. "There's something social about coffee."
The book focuses on, amongst other things, bringing what comes out in casual banter during coffee breaks between business meetings into the formal discussion, Galinsky said.
"It takes down that inhibition, and what we want to do is get that inhibition broken down in the [meeting] room," he said.