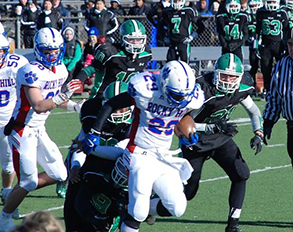 Five Area Players Make All-State Football Team
ROCKY HILL - The Connecticut High School Coaches Association released its All-State football teams and five local players received Class S honors. Rocky Hill had four honorees and Cromwell had one player make the star-studded team.
Rocky Hill's Chris Young was selected as a running back. Young finished with 2001 rushing yards and 35 touchdowns last season. Young, who concluded his high school career as Rocky Hill's all-time leading rusher, averaged over 10 yards per rush and hit pay dirt every 5.6 carries during his sensational senior season.
"I'm grateful because it's not an easy thing to accomplish," said Young, who will have a chance to play for the Connecticut All-State team this spring.
Rocky Hill's Tommy Seaver was selected as a tight end. Seaver finished the season with 25 receptions for 410 yards and eight touchdowns. The 6'2" senior saved his best performance for last, when he nabbed five passes for 113 yards and two touchdowns in a playoff loss to Ansonia.
"I am definitely honored to have received All-State recognition," said Seaver, who also excelled as a defensive end. "However, when looking back at this past season, it was all about the team. Every one of my teammates worked hard to accomplish the goals that we did this season, and that's what means the most to me."
Rocky Hill's Greg Marzilli was selected as a kicker. Marzilli converted 60 of 67 extra point attempts and made four of eight field goal attempts. The versatile star was also a major reason why Rocky Hill had excellent field position all season, as 31 percent (26 of 86) of his kickoffs resulted in touchbacks.
Andrew Jenkelunas was best known as Rocky Hill's quarterback, but he made the All-State team as a defensive back. From his safety position, he finished with 64 total tackles (42 solo) and intercepted two passes, returning one of thieveries for a touchdown. He also recovered a fumble and had a handful of pass breakups.
"I am very honored to be selected all-state," said Jenkelunas, who also threw for ten touchdowns compared to only three interceptions in leading Rocky Hill to their most successful season in school history. "But I think any number of kids on the team could have gotten it this year. I am more satisfied with our great results of the season and how great of a year we had."
Cromwell's Mike McNally made the team following one of the best seasons a punter has had in the state's history. The senior, who was also the teams' placekicker, dropped 23 of 37 (63 percent) punts inside the 20-yard line and averaged an amazing 51.2 yards per punt. He also had four of his punts travel over 70 yards, including a booming 77 yarder in the season opener.
Comments? Email
josh@rarereminder.com
.