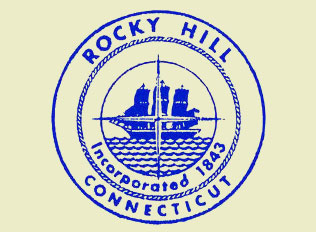 Rocky Hill Girls Basketball Getting Defensive
ROCKY HILL - Last season, the Rocky Hill girls' basketball team finished with a very respectable 14-8 record and won a tournament game in Peter Egan's last season as head coach of the Terriers. Now, Allyson Toulouse assumes Egan's vacated seat on the bench and is hoping to help the lady Terriers make the next step towards a title. The first-year head coach is putting her own stamp on the basketball program, while maintaining the traditionally fundamentals that are a staple of the Terrier girls.
"The style of play from last year's coaching to this year is very similar," Toulouse said. "Having a base that [the players] are already comfortable with has helped the process immensely."
Toulouse wants to combine the ideology of the last coaching administration with the defensive mentality and fundamentals that she acquired from years of playing.
"I am a big defensive-minded coach. I grew up with that mentality when I was a player both in high school and college," said Toulouse, who is East Hampton High School's all-time leader in points and steals. "I am a strong believer that defense is the most important part of basketball and, if you can defend, the offense will take care of itself."
Toulouse learned those defensive principles while in high school and then honed her defensive craft while starring as a guard at Southern Connecticut State University. While at SCSU, she was a key component on the Owls 2006-07 national championship team, who were led by legendary women's basketball coach Joe Frager. Frager coached the importance of team defense and Toulouse is now implementing those same defensive principals into the Rocky Hill girls program.
"We create our offense from our defense," Toulouse said about this season's squad. "These girls have responded very well to that challenge and I think we are going to be one of the toughest defensive teams in our conference this year."
Rocky Hill has four seniors that are helping lead the defensive charge, including forward Kirstyn Arcata and guards Valerie Kobialka and Kraymer Bond. The team is off to a 3-4 start and the tenacious Terriers' defense is molding into the defense that Toulouse envisioned, holding two of their opponents under 33 points this season. Now that her defensive philosophies are taking shape, Toulouse hopes to tackle the second goal of her three-part plan.
"November through Jan. 1, we have certain goals, then those goals change as we get into the second half of our regular season," she said. "Finally, I evaluate those goals, and we shape them to reflect what goals we want to accomplish in our post season."
The team is in the midst of a three-game road trip, but they return home Tuesday, Jan. 14, to host Tolland. Come see the new-look Terriers' defense in action at Rocky Hill High School. The game tips at 7 p.m.
Comments? Email
josh@rarereminder.com
.