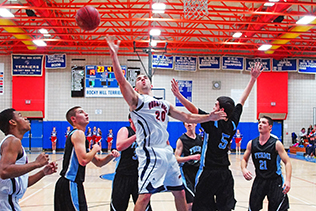 Tommy Seaver Leads Rocky Hill By Example
Seaver, an All-State member of the Terriers' football program, put his athletic prowess and skills on full display at home Friday evening, Jan. 10, on McCabe Court. The 6'1" senior was one of three Terriers in double figures, chipping in 11 points as Rocky Hill downed the visiting Fermi Falcons, 74-50, and snapped a three-game losing skid against the likes of tough Maloney, Hartford Public and Weaver teams. A force on both sides of the ball, Seaver added 11 rebounds and six steals to bring the Terriers to 3-4 on the season.
Forward Nick Casciano, one of two freshmen who start for Dinerman, scorched the nets for a game-high 24 points, including six buckets from long range. Senior Greg Marzilli, another Terrier who's equally adept on the gridiron, came off the bench to add 13 points.
"It's a big jump, but Nick [Casciano] and Alex [Sikorski] handle the challenge of starting as freshmen and the kids have respect for them," said Dinerman.
Casciano and Seaver set the tone for the game early, with Casciano nailing a trey and Seaver scoring on a layup after picking the Falcons' pockets for the 5-0 lead.
Fermi got on the board 1:30 into the game before a 7-0 spurt pushed the home team ahead, 12-2. The young Falcons then outscored Rocky Hill, 17-7, to knot the score at 19-19 as the first quarter ended.
A 6-0 run by the Terriers caused Fermi coach Bob Evans to call time out with 5:44 left before halftime. Rocky Hill responded to Evan's attempt to cool the Terriers down by growing the run to 17-0 to seize a commanding 40-22 advantage. Casciano scored the home team's last seven points of the first half to make it a 48-27 ball game.
"Nick Casciano is an assassin," said Dinerman. "He can shoot it from long range. We're working on his defense. He wants to improve every day. Nick's got a positive head on his shoulders and he's going to be a player."
Rocky Hill held its largest lead of the night, 69-34, with 10 unanswered points to end the third quarter. Casciano started things off with a three-pointer. Jacob LaTorra added a free throw. Marzilli scored two baskets, one of which was set up by LaTorra's steal and Ben Ciccaglione capped the run with a basket on a feed from Marzilli.
"We like playing a lot of guys," said Dinerman. "When you can play defense and run up and down, you're going to be able to play. If we can get a 10-12-man rotation, we can be deeper than other teams, which can help us out in the state tournament.
"It was definitely a rough week for us. Whenever you play powerhouses like Maloney, Hartford Public and Weaver, that's a brutal stretch, but it builds character. I was so happy we had a game today after losing to Weaver on Jan. 9. It's never fun to get run over like that. As soon as we got into the locker room I told them, 'Next page. Turn it over. It's about the next play. We've got to build. We've got to improve every day." These guys responded. We'll be here at 7:30 a.m. tomorrow, ready to work," said Dinerman.
"Our cross over games have been really tough. We still have East Catholic and Bristol Central, and those are two of the top teams in the state. We've got Bloomfield twice. We've got Hartford Public again. The schedule is brutal, and I love it because every night is a battle and it'll prepare us for tournament time," Dinerman continued.
"This is my second year here and I absolutely love it. Our principal, our athletic director, the administration, they're awesome," said the Rocky Hill mathematics teacher.
"I just love the type of kids we have on the team. They're so respectful. They're great kids and they're so coachable. They work hard. We've also got one of the best coaching staffs in the state."
Dinerman, the 2012-13 RHHS girls basketball head coach, took over the boys' reins when Pete Asadoirian left. He's joined by Patrick Egan, a RHHS basketball and baseball standout who led the Terriers to a state basketball title, Garritt Kelley and Michael Dudis, who also teaches at RHHS.
"This is the first time in Rocky Hill history that we've had four coaches. I wanted four because we've got a lot of young players and we want them to improve," Dinerman said. "With four coaches, we're able to have a lot more one-on-one instruction."