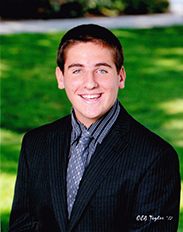 Community Service Advocate Earns Eagle Scout Rank
WETHERSFIELD - Frank Bruno has been doing community service for practically his whole life.
It started in first grade, when he first joined the Cub Scouts, and an appreciation for the importance of giving back, a value the 18-year-old Wethersfield resident says was imparted on him throughout his time with the organization, has stuck with him since.
"With all of the activities and events we participated in, I began to develop interest in community service and I wanted to do anything I could to help people in general," Bruno said "In my opinion, there are not many things that you can do that will give you a better feeling than helping people and giving back to the community."
It carried him to advance to the level of Boy Scout and Troop 50 when he was in sixth grade. Since then, the Kingswood Oxford High School graduate has done everything from playground repair and restoration to constructing a storage shed in Mill Woods, amongst other Boy Scout projects.
"The Boy Scouts are very much involved in projects that help out the community and I have helped with many bottle and can drives, picking up litter, and helping with food and clothing donations to help out those in need," Bruno said.
Now, his work has garnered him the milestone of becoming an Eagle Scout--the highest designation in the Scout organization.
"To the common person, the rank of Eagle Scout is just a name," Bruno said. "However, most people are not aware of all the hard work and time that must be put in to achieve this."
For Bruno, that hard work was done in the form of a donation drive aimed at collecting food, toiletries, and other supplies for The House of Bread, a soup kitchen and shelter in Hartford.
"I knew that I wanted to plan a project that would assist people who were struggling in their lives, and I came across a shelter in Hartford that looked like they could use the help," he said.
That meant collecting donations in Wethersfield, West Hartford and Rocky Hill, while leading the team of Scouts assigned to assist him.
"My Eagle Scout project was my first chance to plan and complete a project that I had created," Bruno said. "Overall, I learned a great deal from the experience and my project taught to me to be a better leader and showed me that hard work can accomplish anything."
Bruno also needed to obtain 21 Scout merit badges, 12 of which are required to have Eagle designation, serve in a leadership position for a six-month duration, and undergo a Board of Review.