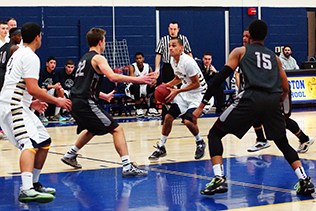 Hectic Week for Newington Boys Basketball
The home standing Indians started off with a 60-53 loss to a tough Farmington squad, led by all-stater Obi Momah, who finished the game with 22 points and 11 rebounds, and senior Colin Cheeseman (18 points) Tuesday, Feb. 4.
Newington hung with its visiting Indian counterparts throughout the first half, with FHS managing slim leads at the end of the first eight (10-8) and 16 minutes of play (21-18). NHS relied on the long ball for its first-half points, with Zach Tinkham accounting for two of NHS's five buckets from behind the three-point arc.
Senior Marcus Guadarrama opened the second half with a lay up to bring the home team to within one, 21-20, before Momah stoked the Farmington offense. The 6'7" senior forward scored eight points on two free throws, a tip in and a pair of lay ups along with setting up hoops from Cheeseman and junior Trey Witter to balloon the lead to 36-26 heading into the final quarter of play.
Newington (5-8) whittled Farmington's double-digit lead to seven, 52-45 on Tinkham's fourth trey on a feed from freshman Jared Simmons. A pull up jumper from senior Edwin Gomez made it a 56-48 ball game with 0:41 left on the clock. After Momah's lay up gave Farmington a 60-48 advantage, NHS guard Evan Mach hit from behind the three-point arc and Simmons canned a shot at the buzzer.
Tinkham, a sophomore guard, led Newington with 16 points. Gomez chipped in a dozen, followed by 10 from Simmons.
"We kept it close against Farmington the entire night. It was a three-point game at halftime. I thought we were in good shape coming out in the second half," according to NHS head coach Scot Wenzel. "After Farmington went on a third-quarter run, we never really recovered after that. It was kind of the difference in the game tonight. I'm sure they shot a pretty good percentage in the third quarter, where we didn't knock down some of our shots.To Farmington's credit, they played good defense. They were able to get some stops on us and we weren't really able to recover after that.
"Farmington is a senior-led team and they start four seniors. When we had to go man and they spread us out a little bit, they got some easy baskets underneath. Obi Momah is an all-state player. He's very good. Tip your hat to them. Farmington is a good team. They're also a big team. They got some big offensive rebounds and they got some easy lay ups on us tonight.
"If the snow comes in like it's planned, we won't have school or practice on Wednesday [Feb. 5], and we have games Thursday at Southington and Friday at Hall. We've got to be able to move past tonight's game with those two big games coming up," said Wenzel.
"I think we have a very good team. We just have to put some things together and hopefully we can get on a bit of a run here. We can get a little bit hot. Who knows what happens at the end of the season. We play a tough schedule but it is what it is. We've got to come out and be ready to play."
The Indians got back on the winning track with a thrilling 85-73 overtime victory at Southington on Thursday, Feb. 6. Zach Tinkham, a marksman from long range, opened the OT period by sinking one of his five three-pointers to bring the Indians out ready to score early and often. He finished the evening with a game-high 27 points, followed by another solid outing from Jared Simmons, who accounted for 22 points and seven rebounds. Marcus Guadarrama chipped in 18 points and pulled down 10 rebounds.
The victory at Southington moved the Indians to 6-8 overall and just two wins away from securing a state tournament berth.
Newington held the upper hand through three periods (14-10, 27-20, 33-31), but saw the lead and the game slip away over the final eight minutes in West Hartford as Hall (7-8) managed a 47-45 decision to close out the week on Friday, Feb. 7th. The Warrior's Lamont Freeman III sizzled the nets for 22 points to lead all scorers, with 11 points from Jared Simmons pacing the Indians.