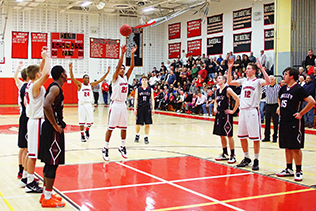 Green Leads Cromwell Charge to SLC Championship
"I had three points at halftime and my confidence was a little low," said Green. "At halftime Coach [John Pinone] told me 'Don't worry, keep your head up and keep shooting.' He kept our confidence up. We started taking the ball to the basket and finishing in the second half."
Strong performances from Matt Turkington (16 points, including a quartet of three-pointers), Jake Regula (15 points) and DeAndre Hamblin (12 points) supported Green's efforts and helped the top-seeded Panthers improve to 21-2.
"It's a tribute to all of the hard work these kids did over the year and the off-season," said Pinone, named SLC Coach of the Year. "Coaches don't win games. Players do. All the accolades go to them. I push them, but at the end of the day, they realize that this is what it's all about." Pinone had previously guided the Panthers to SLC titles in 2009 and 2012.
The back-and-forth first half saw the Bellringers ease ahead, 18-17, after eight minutes of play. Two long-range baskets from Turkington gave Cromwell a 31-30 lead at the break.
"At halftime, I told them that championships aren't easy to win. We knew East Hampton would give it their best shot. We brought more defensive intensity in the second half. We got into the passing lanes better. We got some turnovers and some easy baskets."
Hamblin led the Panthers third-quarter offensive charge, scoring the team's first 10 points. Three-straight layups from Green gave Cromwell a 54-41 margin after three quarters.
The Panthers earned their spot in the title game after Green hit a game-high 19 points, including a pair of key free throws that secured Cromwell's 63-59 SLC semi-final win over Valley Regional just three days earlier.
Green and the Cromwell juggernaut got strong supporting performances from Turkington (15 points) and Regula (11 points) and senior Mike McNally (12) against Valley Regional (19-3) and held leads of 15-12, 33-28 and 51-42 after the first three periods.
"We wanted to play Valley. We owed them a couple of games," said Green. "We lost to them three times last year. We felt like we had to win this game to protect home court. We don't lose at home. My teammates, gotta love them, we've been together since eighth grade. Our bond is something you can't break. The seven seniors, we're just trying to do it big and win this year.
"When I hit the first free throw [to make it 62-59 with 1.9 on the clock], I'm like alright, home court, got to protect it, semi-final game and I'm going to make this. When I make the second free throw, I'm thinking, now we got this one in the bag."
Before Cromwell had the game in the bag, they had to deal with Valley's Chris Jean-Pierre, who topped all scorers with 31 points, including a driving layup that deadlocked the game at 53-53 with just over five minutes left to play. "Pierre was killing us," Regula said of the 6'0' junior guard. "We needed a basket and we needed a stop. I didn't want the ball in Pierre's hands. I wanted the ball in Josh's hands because he was killing them in the post all night. He was doing a really good job.
"At halftime coach said that we needed to rebound the basketball. We weren't boxing out and we weren't playing that well on defense. Coach said we were doing a good job on [junior guard David] Bradbury. He was happy because DeAndre and I were out most of the second quarter and we were still up five so he thought we were going to get a boost in the second half," said Regula.
"With the game tied, we knew we would be able to get off good shots so it all came down to defense. If we can shut them down then we have the game," Turkington said. "At half time coach said we just needed to shut Valley down. They were getting off too many good shots. We got that done in the second half.
"Late in the game with Josh at the line, either way we're going to get back on defense, but we knew he'd make both free throws. He always comes up big for us. We wanted to play Valley really bad. We lost to them early in the season and that was our only conference loss so we wanted to be sure and put this one away," said Turkington.
"Josh is clutch. He's going to make those free throws," added Regula.
"We were very happy to be up five [at halftime]," said Pinone. "DeAndre and Jake didn't play much of the second quarter with two fouls each. We survived tonight, that was the bottom line. We found a way to hang in there to get a win and that's what really matters in March.
"Josh had a great game. He kind of took over in the fourth quarter. He's worked hard to get better at shooting free throws. He was 7-12 and he's got to get better still.
"We were up by 10 or 11, we had the ball and we turned it over with a wide open Jake in the corner. We didn't get it to him. We turn it over again. Valley makes a basket right before the [third period] buzzer to go down nine. And then they're down seven. We've been preaching with every possession that you can't afford to turn it over. When you do, you pay the price for it. We turned the ball over a lot. We didn't run our offense crisply. You have games like this and we're just fortunate we dug deep down and we found a way to win. That's a great sign," said Pinone.