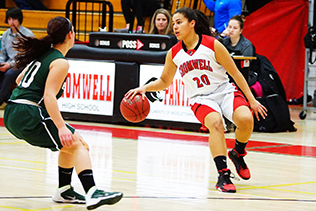 Rojas Shines in Panthers Victory
The 5'8" junior plays a strong defensive-minded game in the Panthers' starting backcourt with senior point guard Emily Appleby, but March 3, with Appleby home sick, head coach Kelly Maher tabbed Rojas as the floor general.
Rojas made the move seamlessly to run the game as a resounding 62-29 victory brought #2-seeded Cromwell's overall record to 23-1, its win streak to 22-straight games and kept the Panthers unbeaten (12-0) in the friendly confines of Jake Salafia Gymnasium.
"Emily wasn't here, so we really had to step up," said Rojas. "This was my first start as a point guard, but I've played the position before in AAU and at Mercy. I wasn't really that nervous. I knew what to do; I've done it in practice.
"We're a young team. Emotions start running so we try to calm down the younger players and make sure they get into the flow of the game. We try to stay positive as much as we can. I talk to them during the game and we talk to each other during halftime."
It didn't take the Panthers long to roll out to a double-digit (14-4) lead over the Raiders, keyed by a lay in and a turnaround jumper in the paint from senior co-captain Janelle Harrison four minutes into the game. Harrison finished with a game-high 18 points.
A hoop from Harrison and a pair of free throws from Emma Belcourt started a run that brought Cromwell into the second period with a 20-6 advantage. Freshman guard Nikki Bitinaitis assisted on sophomore Alyssa Wright's bucket to open the second stanza, with Wright then setting up Bitnaitis from long range, to make it a 25-6 ball game. The 5'6" Bitinaitis later hit from the corner on a dish from Rojas to balloon the lead to 32-12.
Harrison's steal and layup and her layup off of Mya Villard's swipe gave the home team a 43-17 advantage two minutes into the third chapter. Villard, a 5'7" sophomore forward, added six points and eight rebounds for the winners.
"Emily is our point guard, so I'm usually her sub if she gets hurt or has two fouls in the first quarter," said Bitinaitis, who totaled seven points. "For me to step in for her tonight was nice. I wasn't really nervous. The first game, the first time I went in, I was nervous back then.
"At halftime coach told us we needed to pick up our defense, box out and go for the ball more. We came out and played good defense and we pushed the ball."
Both Rojas and Bitinaitis drew praise from Maher. "Nicole has stepped in as our point guard when Emily has been in foul trouble. She took over the show tonight, and that got some people a chance to step up and do some things. Though Nikki is a freshman, I thought she was composed and handled the job great. We're very young but it's the job of our point guard to pull them out, set them up, relax them and get them to run through the offense and Nicole and Nikki did a great job of that.
"We started the game off strong and then we got complacent on defense. In the locker room we said that this is not a time that they can stop playing. They need to play each possession harder than the last one and I thought they got into a little groove on the offensive end and fought hard. We need to close out and play for a complete 32 minutes and I thought we picked it up in the second half.
"Alyssa, Araya [Lessard] and Emma did a great job of stepping up," Maher said of the trio of sophomores who chipped in eight points each. "Everyone got into the game tonight. It's great experience to get the kids out there because you never know when you're going to have to call upon people and the more time they can get on the floor and the more experience they can get, the more it pays off for us in the long run down the stretch.
"This was a typical first round game. There were some nerves, but once we settled into things, we got what we liked on offense."