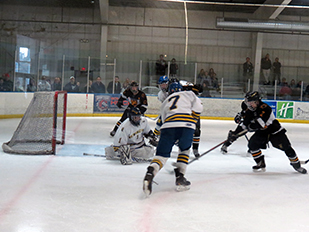 Hand Ousts Newington from State Hockey Tournament
NEWINGTON - Newington High School hockey did not look like a team in its first season having just moved up a division.
The defending state champs went 16-5-1 on the season, earning home ice advantage for the first round of the playoffs, but made an early exit with last Wednesday's 4-1 loss to Daniel Hand High School from Madison.
Indians goaltender Cam Criniti and the Newington defense fought off a two-minute 5-on-3 Tigers power play with the score knotted at 1-1, before Hand netted three tallies in the third period to secure its ticket to the next round of tournament play.
Newington took back-to-back roughing penalties in the second period to create the Tigers' two-man advantage. Hand set up shop in the Indians end and Criniti put on a show, turning aside a point blank shot below the left circle and denying the rebound attempt as he was getting to his feet.
But Hand would push the momentum back its way at the 8:38 mark of the third period, when Luke Brown banged in a rebound out of a scramble in front of the Newington net to make it 2-1.
Shane Kelly and Connor Bell assisted on the goal.
Then it was Ben Solin skating the puck across his own blue line with Newington fore checkers all over him. He spotted Danny Braumann parked near the boards just outside the Hand zone and dished him the puck. Braumann fed him back, as the junior forward sped to the net on a partial breakaway, sticking it low for the 3-1 cushion at 7:39.
The scoring surge was a comeback win for Hand, which fell behind in the first period when Newington capitalized off of an unlikely rebound. The Indians crossed the Tigers blue line and ripped one on goal. A crashing player got to the rebound, and from a bad angle, rang it off the inside post and in for the 1-0 lead at 6:55.