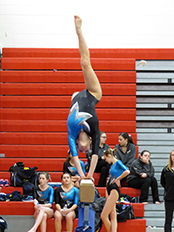 Future is Bright for Wethersfield Gymnastics
WETHERSFIELD - The Wethersfield gymnastics team finished seventh at the Class S State Divisional Championships, coming within a mere point of a top-five finish. Woodstock Academy took home top honors at the event, but Wethersfield's upstart group of gymnasts edged Stonington and nearly defeated Law and Nonnewaug high schools.
Head coach Ashley Diana, who was a gymnast on Wethersfield's 2001 state championship team, had a young group of athletes this season. Eight of the 13 athletes competing for Wethersfield were underclasswomen, which hindered the team's experience this season, but sets up the Eagles for strong seasons over the next two years.
One of the team's underclasswomen is Taylor Garrey, who performed and competed in all four events at the open. She scored a team-high in all four events, excelling at the floor exercise. The sophomore dazzled the crowd with an 8.25 during her floor routine. Her score was good enough to finish in the top-third of the 48 gymnasts that competed in the floor exercise. She also scored an impressive 8.3 in the vault and rounded out her fabulous day with 7.45 on the uneven bars and a 7.4 on the balance beam.
Senior Mariah Gonzalez also shined during her floor routine, scoring an official 8.225. Fellow senior Taylor Buysse finished the open scoring a valiant 6.2 in the uneven bars, the most difficult of the events. Gonzalez, Buysse, Alexandra Comeau and Rachel Dinatalie were the four seniors that competed for Wethersfield this season.
Despite the team's youth, Wethersfield still had a respectable season. The Eagles won their opening event of the season, edging Hall. Then in the regular season finale they tied RHAM, who finished second in the divisional championship.
The future is bright for the high-flying Eagles, who will have over three quarters of their gymnasts returning next season. They will also still have the guidance of Diana, who will be entering her 12th season leading the team.