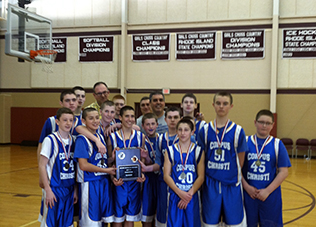 Corpus Christi Wins New England CYO Championship
WETHERSFIELD - Corpus Christi Church boys varsity (seventh and eighth grade) basketball team won the New England CYO Championship last weekend in Providence, Rhode Island. Corpus won three games in three days to clinch the title.
Game one Friday Night was against St. Pius, the New Hampshire State Champion. Corpus Christi won it at the end 59 to 58. Jimmy Sullivan led the squad with 22 points followed by Michael Mozzicato with 17 and Joe Reilly with 14. Mozzicato hit two free throws late to win an exciting game Brendan Dowd hit two three pointers and grabbed a number of rebounds to keep Corpus in the game. Nicholas Arcata played flawless at the point with his ball handling and passing. Matt Bielenda and Conor Keane each contributed to the victory with their rebounding and defense.
Game 2 was Saturday against the Massachusetts Champion, St. Raphael of Boston. Corpus led 29 to 26 at the half and 41 to 34 at the end of the 3rd before pulling away for the victory.
Mozzicato led the way with 27 points, Sullivan had 12, Reilly 9, Dowd and Arcata each had seven. Arcata was once again tremendous at the point. Dowd grabbed a number of offensive rebounds. Keane rebounded well and Bielenda played a solid all-around game. Connor Molloy, Brendan Barry, Ryan Meyer, Kyle Tuozzo and Aaron Molloy contributed with solid defense. Jack Patrizzo, Josh Cronkhite and Daniel Parker provided their usual offensive spark.
The championship game was played Sunday at LaSalle Academy in Providence against the Rhode Island State Champion St. Matthew of Providence.
The game was tied at 12 apiece in the first quarter. Corpus Christi began to break the full court pressure and was able to take a lead at the half 27 to 20 thanks in large part to a three pointer at the buzzer by Matt Bielenda. The game was back and forth through the 3rd quarter. Corpus Christi was able to hold on by making their late free throws and prevailed 63 to 52. Jim Sullivan scored 20, Mike Mozzicato 19, Joe Reilly hit for 13, Nico Arcata and Brendan Dowd each added four and were big contributors as Arcata registered zero turnovers against heavy pressure and St. Matthew was limited to one shot on offense thanks to the rebounding efforts of Dowd. Bielenda was the defensive leader as he shadowed the opposing team's star player most of the game. Brendan Barry, Connor Molloy, Aaron Molloy and Conor Keane came off the bench and played well defensively.
Corpus Christi previously won the 2012 CYO Junior Varsity Championship held in Burlington, Vt.
2014 Corpus Christi Team Members:
Nicholas Arcata
Brendan Barry
Matt Bielenda
Josh Cronkhite
Brendan Dowd
David Haslam
Conor Keane
Ryan Meyer
Aaron Molloy
Connor Molloy
Michael Mozzicato
Daniel Parker
Jack Patrizzo
Joseph Reilly
Jimmy Sullivan
Kyle Tuozzo