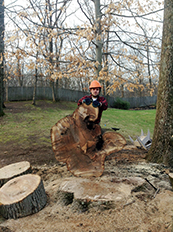 LaPila Landscaping, LLC
Owner Alex LaPila began his Rocky Hill-based landscaping and tree service company when he realized he truly enjoyed the work.
"I started off just cutting lawns and the next thing you know I really enjoyed tree work and wanted to get into that," he said. LaPila regularly attends continuing education seminars, including forestry workshops and tree classes through the state.
In addition to tree service, LaPila offers spring an fall clean-ups, planting or removal, general maintenance--including mowing, leaf blowing and snow removal--trimming, hedge trimming, lawn aeration, paver walkway and patio installation, pressure washing, putting down mulch or topsoil, and other outdoor projects.
"Each customer is different and we try to accommodate them," said LaPila. "I pride myself on doing an excellent job and really like to put the needs of the customer first and make sure that they're getting a quality service."
The customers have noticed, as LaPila Landscaping was voted "Best Landscaper" for the Best of Rocky Hill Awards the past two years.
LaPila puts his landscaping knowledge and experience to use particularly for customers who are looking for a low-maintenance lawn.
"When someone wants to redo their landscaping, I can gauge it so the customer can have a nice, low-maintenance, well-growing and all-around healthy landscape," he said. "I can either rectify a bad [existing] situation or plan ahead and give them the correct shrubbery."
LaPila, who works with just one other part-time landscaper, is present at every job.
"We can get a job done but we are also small enough where you know who is there," he said, adding it is important to him that he and his staff use the best safety practices while working.
Spring is a great time to get the lawn in order, and LaPila Landscaping is ready to dig into the dirt. For more information, visit
www.lapilalandscaping.com
or contact 860-965-5546 or
lapilalandscapingllc@gmail.com
.