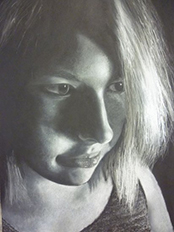 Student Artist Earns State, National Honors
NEWINGTON - When Kirsten Valade took a jewelry-making class during her freshman year at Newington High School, she immediately knew she was on to something.
The experience instilled in her the desire to create, but what she didn't know at the time was exactly what to create.
"I guess that kind of sparked my interest," Valade said.
Fast forward to her junior year, when she took painting for her first time in her life.
"I just did landscapes," Valade said. "They didn't come out that good."
An artist is always their own toughest critic, but Valade has stood the test of some difficult ones. The Connecticut Regional Scholastic Art Awards Gold Key recipient has been given the nod to have her work displayed at a Carnegie Hall exhibition June 6, and she has a scholarship offer from the University of Hartford.
It's safe to say Valade has accomplished a lot, especially given the fact that she has not been painting that long. In fact, it was only just this year that she began developing confidence in her craft.
"This year I started doing portraits," she said. "I never did portraits before."
And she made up for that quickly. When Newington High School art instructor Steve Linde was entering students into the contest, the requirement was eight pieces. Valade had five.
"I had to push myself to get three more," Valade said. "He thought my portfolio was strong."
For a new artist searching for a niche, the support system offered by Linde and the Newington High School art program was essential, said Bruce Valade, Kirsten's father.
"I have to give a pat on the shoulder to Mr. Linde," Bruce said. "He saw something in my daughter and ran with it. The motivation was having a teacher that believed in the kids."
Valade may have the potential for a bright future as a painter--she'll be minoring in art to work toward that--but her first priority is to become the kind of teacher that pushed and encouraged her to get to where she is today. She plans to major in elementary education and, if there's one lesson Valade would like to impart on her future students, it is to "never give up."
"Mr. Linde believed in everybody," Bruce said. "I can only thank people in this school system that my daughter now has a full scholarship because people believed in her."
Valade and classmate Ally Rusgrove are the two students from Newington to earn Gold Key honors in the competition. Scholarships from the University of Hartford ranged from $8,000 to $20,000 annually, with Valade being offered renewable $15,000 tuition coverage throughout her four years there.
The 25th annual Connecticut Regional Scholastic Art Awards is the largest student artist competition in the state, according to a press release posted on the Newington High School website. Students from grades 7-12 are eligible to enter, and 130 schools have been known to take part. From the 1,500 entries, Valade and Rusgrove were part of a selected 182 Gold Key winners.