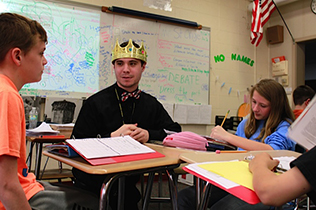 CMS Sixth-Graders 'Rock Out' with Social Studies
"In the classroom, students are encouraged to make [different types of] presentations of what they have learned," explained St. Onge. "They can accomplish this either in music video or dramatization."
This is St. Onge's first year teaching full-time at CMS. For the past three years, he has worked as a substitute teacher in Cromwell Public Schools.
At the start of the current school year, St. Onge began introducing video and dramatization of social studies concepts by modeling them with a music video of his own making. Using the unusual, strangely popular and catchy tune from the song, "What Does the Fox Say?" by the Norwegian duo known as Yvlis, the students collaborated with their teacher to create "What Does Mr. St. Onge Teach?" (on YouTube:
/www.youtube.com/watch?v=kBHbCUzIOvU
">https:/
/www.youtube.com/watch?v=kBHbCUzIOvU
).
Even as their video is over-the-top funny, it does much more than entertain: It provides an engaging and educationally appropriate depiction of the topics and concepts the students are learning in the social studies curriculum. More than that, this video--and many other projects--demonstrates their aptitude for technology and reveals a unique relationship between a teacher and his students, and among classmates.
"When a teacher gives you a catch song that is also informational, you can't help but keep singing it!" said student Clara Rojas. "I'm learning and remembering more because of the interactive teaching that is used in class."
When 'social studies video production' was being introduced to the students, St. Onge said he selected "students who had, in some way, demonstrated responsibility and tenacity in the classroom to help act out the videos."
Recently, more students have had an opportunity to create videos and dramatic reenactments. In the process, they learn to respect one another's ideas, negotiate and plan projects that are fun and engaging.
"Several students have created dramatic reenactment videos about creating mummies. Thirty or so have created music videos about mummification. Many of these videos are absolutely hilarious, but all of them are exceptionally creative and achieve the unit objectives," explained St. Onge.
Humor aside, these types of assignments give students their own way into a subject, a way to personalize it and that enhances comprehension. Take, for example, the student-produced music video, "Do You Wanna Build A Mummy?" performed by two students to the tune of the "Do You Wanna Build a Snowman?" a song from the blockbuster Disney film, Frozen, released last winter.
"The videos definitely help; it makes me excited to learn what is being taught," said sixth-grader Shailan Braun.
Classmate Ryan Corocan agreed.
"Role-playing, videos and music make it fun to learn, so I pay more attention. Also, knowing if you work hard you might be in a video really motivates me to do my best," he said.
These imaginative, interactive projects also help students who are struggling with a topic or concept.
"Early in the school year, one of my students was struggling with a topic. We came up with a project that could make the concepts more relevant for them. This student drafted an outstanding scale model of a Mesopotamian village, complete with irrigation, agriculture, domestication and religious temples," said St. Onge.
The best moments in teaching, explained St. Onge, are those that come after he's been working individually with a student who previously refused to think they could solve a problem or understand a concept. Just as the student is mentally wrangling with the problem at hand, St. Onge is struggling to turn that topic to just the right angle that helps the student reach a level of understanding, then proficiency.
"I'm sitting there with the student and waiting, rephrasing the concept…trying to come up with another way to help students make their own conclusion. Then the moment comes, 'Oh, I get it, now.' And I check to make sure they are not just saying that to get me to leave them alone," he said with a chuckle. Yet, for St. Onge, that is the most joy he can have in teaching.
"I may spend 12 hours a day at school and countless hours at home on my classes, but in that moment, it is all worth it."
The sixth-graders also have worked with video games in the social studies curriculum. This approach is especially helpful for students who are often reluctant to do work outside of the classroom.
"It may sound crazy…but so many kids are already rushing home to play video games, I thought I might be able to channel that enthusiasm into something productive and educational and still entertaining."
Students have used the video game Minecraft to build their own Ziggurats (a Mesopotamian temple where leaders would pray to their gods). They were tasked with designing the interior of the temple with the appropriate materials. Next, students were required to write a paragraph explaining the significance of these buildings.
As if there isn't enough integrative technology at their fingertips, already, St. Onge and his students have other "side uses of technology in the classroom," such as allowing students to use their phones under the strategy of the Quick REACH tool belt. 
"This allows the students to use their technology to help them define words they [do not know] instead of passing over the word and not learning the meaning," he said. 
St. Onge also uses Google Drive, cloud technology that allows anyone to store documents, audio or video footage. The teacher can access his classroom tools from anywhere, while students use it to collaborate on writing assignments, take polls and conduct assessments.
"Since editing and revision are such a large element of our writing units, Google Drive allows for efficient, paperless communication," said St. Onge. 
If you thought QR codes were meant only for shopping from your mobile device, think again.
"We use QR codes to provide a simple way of allowing the students to bring up any form I put up on Google Drive, rather than having to email them to a hyperlink each time," he said. "Of course, only a quarter of my students have cellphones, so for everyone else, we have paper copies available."
And worry not, there are plenty of "old school" techniques scattered about the classroom: stacks of books, photographs, illustrations and white boards covered with notes. All of this is within easy reach for students.
With all the technology that St. Onge brings into the classroom, one has to wonder what really challenges this social studies teacher.
"So far, it's been the review music videos. Creating the scripts and choreography was a more daunting task than I imagined, as well as the actual filming process. Also, before these videos, I'd never used a movie editor before. After recording all the students singing and performing the script, I downloaded a random movie-editing program. I spent the first three hours contemplating if the editing program was some sort of demonic tool! Eventually, I figured it out and came out with a product that I was satisfied with--at 2 a.m. on a Thursday school night." 
If teaching and all it entails ever becomes not enough of a challenge for the talented St. Onge, his students know just what to do: They'd like to send him back in time to live among ancient civilizations!
"I'd send St. Onge to Athens because he is smart," said Rojas.
"I'd like to send him back in time to Egypt because he is strict, so he would be a good pharaoh. He also kind of looks like one when he dresses in costume!" said Corocan.
Braun added, "Even though most pharaohs were cruel and Mr. St. Onge is not, I think he'd be the most surprisingly nice and generous pharaoh ever!"