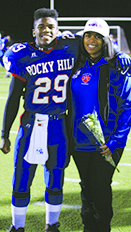 Forever Young: Rocky Hill Hero Headed to Springfield
ROCKY HILL - All good running backs have power, speed and agility. The great ones are instinctual. From Jim Brown to Barry Sanders to Adrian Peterson, the historically special running backs have the one trait which separates them from the rest.
Chris Young has those same instincts.
There was no better example of Young's unique attribute than during the 2013 regular season finale, when Rocky Hill was facing rival Northwest Catholic in their annual Thanksgiving Day duel. The Terriers had struggled offensively and were clinging to a 14-6 lead with time dwindling down in the first half. Facing fourth and goal from the one-yard line, Rocky Hill ran a play that called for Young to take a pitch and sweep to the right. As the play unfolded, Young saw several Northwest defenders waiting to devour him if he followed the play's design. He made a split-second decision to cut on a dime and found a narrow opening in the heart of the defense, allowing him to waltz into the end zone. The touchdown propelled Rocky Hill to victory, securing the school's first ever home playoff game.
Young credited the season-defining touchdown to reading the defense prior to the snap and then letting his instincts take over once the play started. Young used this sixth sense to amass 5,392 rushing yards and score 82 touchdowns during his illustrious high school career. However, his high school feats are just beginning for the hometown hero. He now eyes the next step in his journey, which will take him up north where he will play for Springfield College this fall.
"I'm looking forward to the competition. I know that college football is going to be different than high school football," said the confident senior. "I am looking forward to all the challenges and feel that Springfield made a good choice in recruiting me."
When you watch Young play football, it's easy to see why Springfield recruited the naturally-gifted tailback. He's not only blessed with the athletic ability that colleges covet, but he also possesses a football acumen that is second to none. He eats, sleeps, and breathes football. But that wasn't the way it always was.
"Funny thing about football is that I started playing to give me an outlet. I started playing in elementary school as a way to stay out of trouble," said Young. "I used football as a positive outlet and then fell in love with it."
His love for football, combined with Springfield's storied history of athletics, was a natural fit. Springfield is known as the birthplace of basketball, thanks to James Naismith, who invented the game while working in the physical education department for the university in the late 1800's.
"The athletic vibe that I got from the school was one of the reasons I chose Springfield. They are very athletically-oriented," said Young, referring to his campus visit. "Their weight room and the athletic department are great. I feel that Springfield gives me the best chance to further my football career."
Springfield may be known for basketball, but the football program has been equally successful. Veteran head coach Mike DeLong is the catalyst behind the team's success, winning 60 percent of his games over 29 productive seasons. He enters his 30th season leading the Pride and now has the multi-faceted Young at his disposal.
Young may have thrived as a running back at Rocky Hill, but he also excelled at a variety of other positions, including linebacker and cornerback. He also returned kicks as an underclassman, which will give him added value as he enters the collegiate stage of his football career. He said that he looks forward to his new role at Springfield and that there is no substitute for working hard.
"Nothing has been given to me. Everything that I earned, I achieved through hard work and the help of my teammates, close friends and family," said the 2013 team captain. "In order to be a football player at any level, you have to be able to play through injuries and you have to be able to fight through a lot of adversity in order to be a great player."
Young learned his work ethic from his mother, Angela Young, whom he says is his biggest influence. She is also his biggest fan, showing up at every Rocky Hill football game dressed in her trademark #29 apparel.
"She's worked really hard and she made sure to teach me and my brothers that we have to work hard to get what we want. She taught us that nothing was going to be given to us," said the family-oriented Young. "I have a lot of natural ability, but she told me that my ability will only take me so far and that I have to keep working."
For her part, Angela says that she is very proud of her son's football achievements, but it's what he's accomplished off the field that fills her with pride. She said that she is most proud that her son has been able to maintain high grades and continues to take honors classes, even in his final semester at Rocky Hill. She will continue to be her son's biggest fan and, no doubt, will be covered in Springfield attire this fall.
Young, his mom, and his close family have become renowned within the community, having their own cheering section during Friday night games the past four years. He is looking forward to his next challenge, but he will always treasure his time at Rocky Hill.
"I'm going to miss high school football. There is nothing like it," said the soon-to-be graduate. "High school football is its own thing. You can't compare it to anything else."
His high school will miss him, too. Young set numerous football records at Rocky Hill and set a high bar for any successors. This past fall, Young shattered his own records from the previous season, rushing for 1,996 yards and 35 touchdowns, while helping carry the Terriers to the Class S semi-finals. He was so productive last season that he scored a touchdown every 5.6 carries and averaged over 10 yards per carry; both are video game-type statistics.
The multi-sport Young also excelled as a wrestler, finishing third at the Class S finals in the 182-pound weight division. Despite Young's success on the mat, he will not continue to wrestle at Springfield, saying that it will be "football year round"--- choosing to keep the focus on the field and his new surroundings.
"I feel like I'm ready to branch out," Young added. "I'm ready for college football and ready to explore what college life has to offer."
Young will play one more game in Connecticut before jetting off to college. He was selected to play in the 'Super-100' game, which is the annual All-Star game for the state's best high school seniors. He will be part of the Nutmeg Team, led by Sheehan coach John Ferrazzi. The star-studded game will be played at Rentschler Field in Hartford June 28 at 4:30 p.m. This will be your last chance to see Rocky Hill's record-breaking running back before he takes his talents and instincts to Springfield.