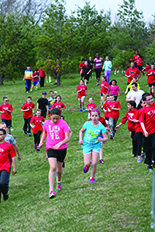 Running Club Keeps WIS, ECS Fit
"Based on local and online research that we've done, we have yet to find another school with a larger school-based club. It is quite a sight to see a group of 300-350 students, teachers and parents from the community all out exercising together," said Doug McGough who, along with Richard Dean, founded the club just five years ago. "We are all out there working together to achieve the goal of promoting healthy living activities and we are teaching by example."
The idea for a running club developed as a way to teach kids about a sport that has meant so much to both educators and also to teach children the importance of making healthy choices. For its efforts and reputation, the club won the CTAHPERD "Outstanding Program Award," a state-wide award from the Connecticut Association for Health, Physical Education, Recreation and Dance for being a unique and innovative program. The club was also featured on NBC channel 30 news.
"With childhood obesity constantly in the news, we felt that this club was one way that we could help teach kids to combat the problem," said McGough. "But we also believed the students were missing the opportunity to see running as a sport, as it's not something they are usually introduced to until middle school or even high school."
The WIS/ECS Running Club allows students the opportunity to experience running as a sport and to interact with some of the high school track team members. They can ask questions, get pointers and try to keep up with them. In addition to the students, there are over 30 teacher/parent volunteers who help with all of the different age groups.
The club has grown every year since its inception, beginning in 2006 with just 35 students and a handful of volunteers. A year later, student enrollment exceeded 180 participants. Today, the club includes 65 percent of the school's student population.
McGough attributed the sustained popularity of the club to its volunteers.
"The volunteers absolutely help to sell the program. Some of the volunteers who have been with the club the longest are Sarah Turner, Doug Kiss and Mark Loomis. The kids promote the program to each other, as well," he said.
Ready, Set, Run and Have Fun
Everyone is working hard, but they also look like they are having a good time, whether they are running or walking. The running club has become about more than running; "it's spending time with a large community of people all working toward a goal. It's a positive environment where people both give and receive encouragement. Who wouldn't want to be a part of that?" said McGough.
At the start of each session, students meet with their group leaders, who take attendance while the students stretch and get ready to run/walk. By 3:40 p.m., everyone has gathered outside, the coaches start the clock and participants start running the premeasured course. Each loop that the students run is a half-mile. The students keep track of the total number of laps that they do. By 4:20 p.m., students meet back with their leader and report back their total number of laps.
"The students are given bracelets at the six-mile, 13-mile and marathon milestones," explained Dean. "No one is expected to do more than they can--walking is absolutely fine if someone does not want to run the entire time. The focus is on setting a goal and doing one's best."
Setting the Pace to Reach a Goal
The overall goal for each student is to complete a full marathon's worth of distance over the course of all of the sessions and to build up their endurance level so that they can complete a 5K at the end of the season. They have several target points along the way and they receive recognition for reaching each of those milestones. They receive a white rubber bracelet after completing a 10K (6.2 miles), a black rubber bracelet after completing a half marathon (13.1 miles), and, finally, a red rubber bracelet at the end when they complete their mileage to a full marathon (26.2 miles).
"To really celebrate this achievement, we host a Teacher vs. Student 5K Challenge that is put on by the Cross Country Booster Club and the members of the Cromwell High School cross country teams," said McGough. "The students and teachers put all of their training to the test in this fun challenge in which students can compete with their teachers to see who will cross the finish line first. This is a great motivation for many of the students, as well as the teachers."
The students and staff of Cromwell schools invite the community to join them for these healthy activities. The Teacher vs. Student 5K will be held May 17. The event is open to the entire community. Registration information is available at
www.cromwellcrosscountry.com
.
Achievements at Every Level of Participation
"The achievements of individual participants are varied. For many, just completing the distance each week is a big achievement," said McGough." For other students and staff, we have seen many positive health changes, from weight loss to easier breathing with asthma.
"The running club has also seen some amazing times run by young student-athletes. Many club members receive medals at the 5K events for the times they clock. There are several third, fourth and fifth grade boys that have run a 5K in under 22 minutes, and some girls with times under 25 minutes. These are great achievements for our student-athletes," said McGough.
Outdoor activities can be lots of fun and promote physical as well as emotional wellbeing. Even though the running club meets just once a week, students are encouraged to expand participation beyond just that one day.
"We want to get the kids outside and away from all of the electronic distractions for some time each day," said McGough. "We want them to discover something new that is good for them, find the joy in it and keep with it as long as they can."