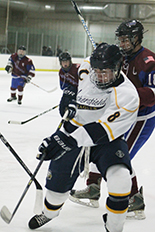 Conner and Carcia Named to Hockey All-State Team
WETHERSFIELD - It was a challenging season for the Wethersfield hockey team, but a few bright spots shined through for the frozen Eagles. Two of their players, Billy Conner and Matthew Carcia, were named to the Division-III All-State team following great individual campaigns.
Conner, a team captain, led the team in both goals and assists. The senior forward wrapped up his fantastic high school career by averaging a point per contest this past season. He was selected to play in the Connecticut High School Coaches Association (CHSCA) all-star game, where he played with and against the other standout seniors in the state.
Carcia was a stout defender for the Eagles and still managed to score in double-digits from his defenseman position. The junior flourished this season and will be one of the five returning seniors next year. All five players received significant playing time this season.
Junior Noah Thulen was also asked to partake in the CHSCA junior all-star game. The selfless forward was second on the team in assists, finishing with three multi-assist contests over the final 10 games of the season.