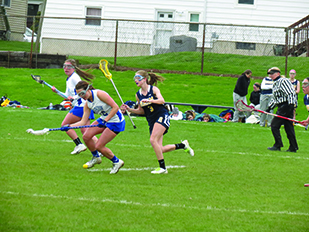 Zapatka Leads Indians to 14-5 Victory Over RHAM
NEWINGTON - The Newington High School girls lacrosse team appears to have left the early season struggles that had them at 1-2 to start of the year.
The Indians rode a four-goal performance from senior midfielder Alex Zapatka past RHAM by a 14-5 margin at home and into a three-game winning streak that has included a 15-14 nail biter victory over Lewis Mills High School and a 14-9 decision against Northwest Catholic.
Zapatka also tallied two assists in a game in which Newington controlled the face offs, and consequently, the offensive third possession. With the Terriers limited to playing defense, the Indians jumped ahead by a 13-1 margin by halftime.
Zapatka got things going early in the first half, after Newington won the faceoff at midfield. Zapatka carried the ball herself into RHAM territory, driving down the middle toward the crease where she stuck the ball into the low left corner. She would follow that up with a feed to teammate Brooke Hellman, who was cutting to the crease. Zapatka threaded the ball through from outside, setting Hellman up for the close range shot and goal.
Zapatka might have been looking for a similar play on the next possession, when she carried the ball from around the back of the cage with a crease defender stepping up, but she didn't have a cutter and decided to take it in herself. Zapatka ran around the outside of the defender and out in front, stashing the ball low before the Terriers could slide and stop her.
But the Zapatka show still wasn't over. Leading a fast break that followed yet another Newington faceoff win, she spotted Hellman sneaking in behind three defenders and crashing the net. Zapatka lobbed the ball over their heads to set her up for her second goal of the game.
Zapatka would cap off the hattrick later off of an unlikely outside shot from the right.
Newington and Rocky Hill met Thusrday, May 1, on Terriers turf. The Indiands defeated the home team, 14-8.