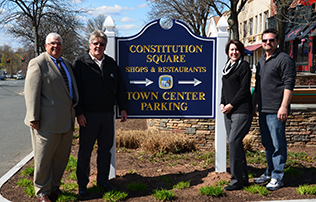 New Signs Point the Way to Constitution Square
NEWINGTON - Anyone who has traveled through Newington Center recently has probably noticed something different, but might not realize exactly what has changed. That's because the attractive new signs directing attention to Constitution Square and the municipal parking lot blend in so well they appear to have always been there.
Colonial styled signs with a blue background, white edging and engraved gold lettering have been erected in five locations around the perimeter of Constitution Square with a sixth in the center of the municipal parking lot. Two additional pole-mounted signs direct passersby to the businesses on Market Square. Bianca Signs of New Britain fabricated and erected the signs for the Town at a cost of $13,310, which included demolition and disposal of the old parking signs and fabrication and installation of the new ones.
"I am extremely pleased with the new signs" Mayor Steve Woods said. "As a Town, we don't often have the opportunity to provide direct assistance to Town Center businesses within the area bounded by Market Square, Main and East Cedar Streets and Constance Leigh Drive. Fortunately, we were able to redirect funds remaining from the Market Square Streetscape project to be used for this enhancement. And these new signs continue our efforts to upgrade and standardize signage throughout town to identify and locate public buildings, facilities, parks and landmarks."
Town Councilor Jim Marocchini, who was formerly Chair of the Economic Development Commission before being elected to the Council last fall, remarked "This was truly a productive collaboration between the EDC and the Downtown Merchants Association. Although it seems like a simple idea, it's amazing how much work is required to gain a consensus on where new signs should be placed, what their sizes should be, how the wording should read and what they should look like. Then the Engineering Department and Traffic Authority had to determine their exact locations and mounting heights, easements from property owners and the Department of Transportation were required and then we had to wait for the weather to break. So it might have taken a while to accomplish, but I couldn't be happier with the result."
Valeri French, of French's Travel and President of the Downtown Merchants Association added "The new signs look lovely. They are a tremendous improvement. The sign on Main Street is really outstanding. There wasn't a sign there before and many people just didn't know they could enter the municipal parking lot from Main Street. The new signs are classy, they help us promote Constitution Square as a brand and out-of-towners' will now have an easier time finding the businesses located in Constitution Square and Market Square."