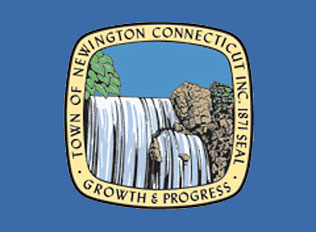 Martin Kellogg STEM Renovation Begins
NEWINGTON - Renovation work to transform the former shop space at Martin Kellogg Middle School into a biomedical science lab for the new STEM academy has officially begun.
Newington Superintendent of Schools Bill Collins, along with Board of Education Chairman Mark Finkelstein, Town Manager John Salomone, architect Rusty Malik, and Deputy Mayor Clarke Castelle and Martin Kellogg Principal Jason Lambert, amongst others, gathered outside Martin Kellogg last Tuesday afternoon to mark the construction set to begin the next day.
The academy, which will cost $571,732, a value engineering-driven reduction from the $624,342 bid, but still over the $550,000 initially anticipated, is expected to be completed by Aug. 15. It will open this fall with the enrollment of 25 seventh-graders, and add 25 more students the following year, according to Collins.
"Bioscience is going to be huge, and we want to make sure we're providing a steady stream of workers for the bioscience industry," Collins said. "We want to make sure we're providing the problem solving and critical thinking skills the industry needs."
Job opportunities for biomedical engineers are expected to grow 27 percent between 2012 and 2020, according to the Bureau of Labor Statistics. Jackson Labs at UConn is expected to be a catalyst for the industry in Connecticut.
"I'm excited about the Jackson Labs aspect," Finkelstein said. "It'll bring employment."
Collins has expressed desire to establish a closer relationship with biomedical engineering companies such as Jackson Labs and the STEM Academy, possibly through weekly visits from professionals, in order to give students more insight into the field and "make sure that what they're doing is real and relevant." The space will be renovated to include an office area for a visiting physician, although the district has yet to officially ink a deal with a related company. The closest Newington has gotten in this regard is with UConn, which has not signed on yet but is expected to, according to Collins.
"We actually planned our facility around UConn labs," Collins said. "They gave us advice on what equipment to buy."
The facility will include two classrooms for small group work, as well as a centralized lab space for collaborative projects. Plans originally called for movable partition walls to separate the classrooms, but amongst the value engineering done to reduce the cost was to defer those until a later time, according to Castelle, who sits on the Martin Kellogg Middle School Project Building Committee.
Built in 1950, the Martin Kellogg shop space used to house courses on everything from woodwork to welding.
"We knew that wood shop and metal shop we're once appropriate to teach," Collins said. "It's no longer appropriate--they're very specific jobs--so we'll leave the vocational schools to do that."
Enrollment, which is based on a lottery application process, will be open to students from both Martin Kellogg and John Wallace Middle School, the future home of an aerospace engineering STEM academy. Students coming from John Wallace will take all of their classes, including non-STEM courses-at Martin Kellogg and then be bused back for after-school activities, Collins said.