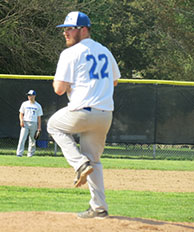 Terriers Baseball Takes Down Rival E.O. Smith
ROCKY HILL - Last Monday afternoon, there was a three-game unbeaten streak between Rocky Hill High School baseball and its April 28 9-1 blowout road loss to Edwin O. Smith High School.
In three games, the Terriers had displayed the dominance that had them just beneath the top spot in the Central Connecticut East, shutting out and blowing out Bloomfield 24-0 before notching victories over Tolland and East Hartford, but April 28's defeat might have still been in the Terriers' minds, especially since the Panthers team that handed it to them owned the number one seed in the conference.
With Edwin O. Smith coming to town, Rocky Hill would have the opportunity to address both of those issues. And behind the dual pitching and batting heroics of junior Bryon Foust, whose two-run homer in the fourth inning proved to be the difference-maker, they did just that, with a 7-2 victory.
In the fourth, the Terriers were trailing, as they had been since the second inning. Foust came to the plate with a Rocky Hill runner on first. If you go by National League baseball, you might not expect much when a pitcher comes to bat, and Foust had already done more than his share defensively to hold the Panthers to their two early runs, but he was about to make his presence felt in a different way.
Foust started the at-bat with two big swings and two strikes. He calmed down, watched two more come in outside the strike zone to work the count to 2-2. The Panthers pitcher puts one right in his wheel house. He swings and connects, sending the ball out to left. Going, going, gone. Foust has just given Rocky Hill the 3-2 lead. Now he just has to protect it.
In the fifth inning, things got complicated. A Panthers batter managed a base hit and then stole second after a pitch eluded the Terriers catcher. Edwin O. Smith notched another single to take first and third with two outs. After the runner on first steals second, Foust walked the next batter to load the bases.
With a 3-2 count on the next batter, Foust is one ball away from walking in the tying run. He fires one in. The umpire watches the ball hit the catcher's mitt, hesitates, and calls it: Strike. The Terriers escaped the at-bat with the one-run lead.
Just for assurances, Foust would pop off again in the sixth, doubling out to center for two runs-part of a Rocky Hill rally that saw Cody and Connor Edkins tally back-to-back RBIs of their own.