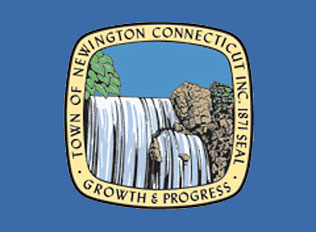 Rose Ceremony Honors Newington's Casualties of War
NEWINGTON - Newington has lost 29 veterans to combat throughout its history.
Casualties of war are always difficult to come to terms with, but those 29 hit close to home in Newington and, for Mayor Stephen Woods, one hit just a little bit closer--his childhood friend, Robert Kasper, was a veteran killed in the Vietnam War.
"I remember that day," Woods told the crowd gathered in the lobby of Town Hall for the Rose Ceremony that followed last Saturday's Memorial Day parade. "We were devastated, particularly me and my sister since we knew him the best. He was an amazing individual, and I'm sure that is the case for all of the other 28 men."
While the ceremony and parade--a lengthy procession marched by boy and girl scout troops, the Newington High School marching band, the Newington police and fire departments, members of the National Guard, and state and local officials, amongst others--is about honoring military members killed at war, it is important to not lose sight of the here and now, said 27th District Rep. Sandy Nafis, who was the ceremony's keynote speaker.
"We also cannot forget people who are here, and we must continue to provide services," Nafis said. "We need to continue to provide for our vets with what we do now."
Part of not forgetting what they have been through is to keep their stories alive, Nafis said.
"For those who have grandparents that served, ask them about what things were like, because they are the ones that have those answers," she said.
Before the ceremony, the sidewalks of Main Street were packed with residents watching the parade, which began with a 29-second moment of silence. Amongst them was Edward Skehan, who sat in a lawn chair and sported a cap that read, "Word War II Veteran." In his two-year tour in Europe, he survived the Battle of the Bulge.
Two years ago, he was the parade's grand marshal.
"He's sat on this corner every year for 20 years," said Kathy Payamis, who sat next to him.
But Skehan stays modest.
"[The parade] means I'm a year older," he said. "I meet a lot of my friends here."
"I think he comes here to honor everybody and be honored himself," Payamis said after Skehan turned away.
Brett Goldstein is in the midst of a 30-year career in the Army Reserves, but last Saturday he was there to watch his son march with the Boy Scouts.
"We've come out here every year for the past 15 years," Goldstein said. "The town's always been supportive of the veterans. The participants and the honors they've given our family have been fantastic."
And Goldstein returns the favor.
"The veterans seem very touched when he comes out in uniform," said Goldstein's wife, Sandy.
The Rose Ceremony also featured a set of songs, including "Proud to be an American," "The National Anthem" and "The Marine's Hymn." This year's grand marshal was John A. Mele Jr., a Korean War veteran who owns Premier Cleaners in Newington. Mele Jr. was presented with a plaque honoring him at the start of the Rose Ceremony.
The parade, which started at 10:30 a.m., left from the intersection of Main Street and Robbins Avenue, turning at Garfield Street and continued toward Town Hall where it ended.