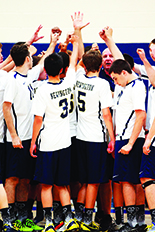 Indians Boys Volleyball on the Road to State Title
"Our goal is to win the championship," NHS head coach Curt Burns had said before the start of the season. "We're not shying away from it. We have to earn it by working hard for it."
The top-seeded Indians took their first step on the road to a second Class M title in three years with their 18th 3-0 win of the season (25-17, 25-22, 25-18) besting Farmington High School in quarterfinal action June 6 in the Richard Rogalski Gymnasium.
Their second step comes Tuesday, June 10, when NHS meets number five ranked Joel Barlow at Fairfield Warde in semifinal action. Joel Barlow earned a spot in the final four with a 3-1 victory over number 13 Wethersfield June 5.
Newington's final destination is the Class M championship match, which will be played Friday, June 13, in Shelton.
The Indians never relinquished the lead in the first set of their third meeting of the season with their FHS tribal counterparts, securing the win behind a quartet of kills each from outside hitters Nick Hinchcliffe and Jordan Aprea. Set two featured 11 deadlocks before senior Josh Metzger came in and had three serves to finish it off.
"We knew that if we jumped out early in the third set, which we did, we could probably close out the match," according to Burns, in his 11th season at the NHS helm. Hinchcliffe and senior middle blocker Jon Cloutier made sure the Indians held the third-set lead from start-to-finish with five kills each.
"Joel Barlow is a good team out of the Southwest Conference. I saw them play back in April during the break. We've got to get ready for them. We'll go over our scouting report on Saturday and Monday and be ready and competitive on Tuesday. At tournament time you pretty much stick with what got you there. We'll do our basics--serve and pass, hit and block, serve receive and transition. Those four basics are what got us here. We practice them every day. Now it's all neutral [sites] and we know our game can travel," Burns continued.
"I thought my boys played great tonight. We're big believers in what we call service pressure where we don't just put the ball in play, we attack with our serve. We have a lot of jump servers who hopefully knock the other team out of their system, and then we'll see easier plays coming back at us.
"We just saw Farmington on May 31 in the Central Conference championship game," he said. "They were coming off of a tough five-set semifinal win [over #2 seed East Hartford] and were probably a little tired."
Newington's 22-1 overall record includes a pair of 3-0 wins over Southington and Farmington, which earned the Indians the Central Conference crown.
"Farmington was fresher tonight. They're a very good passing team. They handled a lot of our better stuff and we had to be ready for it. Their defense really picked up in the second and third sets.
"I think we served well across the board. The serving subs we made--seniors Austin Collazo and Josh Metzger--went in and did a nice job. They changed the tempo of the sets. Farmington got used to things and then we brought in a different look. Long Du, who started and set this match (37 assists), also has a good jump serve," said Burns.
"Our strength is the diversity in our attack. We have two good middles. We have two good outsides. We also have good opposite hitters. I think we were pretty balanced across the board so I can't single out anyone who was really dominant. That's a sign of what we do. We try to spread it around so it's hard for our opponent to read our attack."
The 6'4" Hinchcliffe topped NHS with 13 kills, followed by nine from Cloutier, in only his second season of volleyball, and eight from Aprea, who checks in at 5'11" with a 39-inch vertical leap. Senior opposite hitter Connor Ericson hit .384 for the match with a half dozen kills.
"We feel we have so many weapons that we can keep our opponent guessing on where the ball is going, which plays to our strength," said Burns. "We did well on defense but maybe we could have been a little better. I think some of the long rallies that Farmington won surprised us a bit. When that happened we were kind of like 'Oh that ball came back and shouldn't have come back,' so that knocked us back a bit. We adjusted well in the third set."
The NHS defense benefited from libero Bret Sullivan's 18 digs and Aprea's seven, while Cloutier was strong at the net with 2.5 blocks.
"Bret Sullivan is a very good first contact guy. He's important to our offense because he starts every rally with a contact if he gets the ball," Burns said of the 5'7" junior. "I'd really like to thank the students for their support tonight. This was the best crowd we've had all year, by far."
Aprea admitted to being "excited and a little nervous to play a states game. We stuck together and pulled it out so tonight was fun.
"Jon Cloutier and Nick Hinchcliffe were huge on the net. They're a big threat. Our setter, Long Du, put up hittable balls and they crushed them. Bret Sullivan steps in every game. He's always around. He's covering. He's getting some nice digs," Aprea said.
"Every year our number one goal is to get to the state championship. At this point, our opponent doesn't matter. We've just got to take it one game at a time. We're on our way."