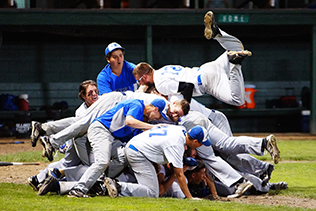 Terriers Win Dramatic State Championship
The top-seeded Terriers rallied to deadlock the game at 3-3 in the home half of the sixth. H-K's Griffin Bremer fanned the first two batters before junior designated hitter Brian Batalis singled up the middle. A pair of walks loaded the bases before a wild pitch bounced close to the Rocky Hill dugout on the third base side. Batalis came home, followed by pinch runner Nick Bogus, who looked to be out on catcher Tyler Popp's throw to Bremer.
"The ball never went into the dugout, so I waved Nick in," said head coach Chris Farrell as he gripped the Class M championship plaque. "The catcher's throw was to the inside and Nick slid to the outside." Umpire Craig Funaro called Bogus safe.
Senior right-hander Tommy Seaver, who pitched 10 of the 12 innings needed to defeat defending state champion St. Joseph's in Class M semi final action, moved from center field to the mound to pitch the seventh. A fielder's choice and a crisply turned double play that Seaver started kept the Cougars in check.
The drama built when H-K reliever Brian Moskey hit junior outfielder Dave Sevigny with an inside pitch to open the bottom of the seventh.
"We're trying to get Dave Sevigny over to third base so then a fly ball or base hit wins the game. With one out, Brandon Grover had a good at bat with a base hit to right field. I wanted to send Sevigny from second base but held him up because we had our [number] five hitter up next. They walked Spencer Bunting. Our next batter, Josh Zawisa, knows the strike zone so well and battled and fouled off three or four pitches," Farrell said of his first baseman's most important scholastic at bat.
"I was a little nervous," Zawisa admitted. "I wanted to get the game-winning hit. With the count 3-2, I knew I had to swing if the ball was in my zone but I saw it was a little high. I threw my bat when I heard 'Ball four.' I saw my teammates jumping and screaming. All I could think about was getting to first base and then jumping on the big pile. I couldn't believe we had just won the state championship. It was the best feeling in the world. I haven't been this happy since I was a little kid playing baseball." Zawisa drove in Chris Bouchard, who drew a walk in the fourth, for Rocky Hill's first run.
The loss brought HK to 0-5 in title game appearances and an overall record of 19-8. The #11 Cougars earned the right to meet Rocky Hill with a 7-5 semi final defeat of Plainfield in 13 innings. The Terriers (23-2) made their first state championship appearance one to remember.
"This feels amazing," Sevigny said. "Words can't even describe how I feel right now. We've talked about it all year, about hanging a banner and getting to this point at Palmer. Now that we're here and now that we've won, it just feels unreal.
"After Brandon singled, I'm at third and I'm thinking Spencer has to hit it to the outfield, let me tag up and drive me in. If not, let him walk. When Josh is up, I'm praying for a deep fly ball."
Zawisa echoed Sevigny's sentiments. "This feels really good because of how hard we've worked. Ever since last year, when we lost in the first round against Ansonia, we all knew we had to work really hard to get here. We sat down as a team before the season and our two goals were to win the conference championship and to win the state championship. Now that we've accomplished those goals, it feels really great.
"We're all anxious to get our rings. We haven't really talked about it, but we know we're getting them. We've worked hard for them. I don't know when the championship banner will be hung at the high school, but whenever it is, we'll all be there. That will be a very special day for Rocky Hill."
A wide smile threatened to split Seaver's face as he said, "This is the best feeling in the world. I'm so happy right now. It's our first baseball state championship, so it means a lot to the team, the school and the town. They all came out to support us and it helped us a lot.
"I threw 10 innings the other day but this is a big situation and I wanted it so bad for my team so I had to come through. We were down, but we never lost hope. We knew we could make something happen.
"After Dave gets hit in the seventh, our next three hitters are some of the best on our team and in the state. I knew one of them would come through to move the runners over and win the game. However we won, whatever happened, it's a great feeling. This is my best memory from Rocky Hill. My smile probably won't wear off for a couple of days. Maybe not for a couple of weeks. I might be hurting tomorrow from smiling, but it's worth it," according to Seaver, who picked up the win.
"Before the season, I asked the team what they wanted to be. Everyone, especially the seniors, wanted to be champions," said Farrell.
"This is a very special group. They definitely just made history. This is the first time we've ever been in 'The Game.' We've never been to the semifinals. The seniors are resilient. They really stuck together. And Tommy and Spencer on the mound have been unbelievable. It feels amazing to be the first Rocky Hill baseball team to win a state championship." Farrell added.
"I have never felt better in my life," said Bunting, who gave up three runs on four hits in six innings. "I'm thinking we're going to win this game because Tommy Seaver is one of the best pitchers in the state. We don't have a number one pitcher and a number two. We have two number ones. I had full confidence that he would shut them down and we would come back as a team and win it, some how, some way.
"As a senior, this is very, very special," according to the right-hander, who accommodated a multitude of photo requests. It's the best moment of my life. She might get mad, but yes, this is better than kissing my girlfriend, Abby Smith," he added with a laugh. "If you print that, she'll be okay with it. And now we're going to celebrate."
Bunting joined his teammates who were already hanging out of the bus windows. They left Palmer Field to a cacophony of appreciative cheers, thunderous applause and the loud blare of car horns. The celebration had begun.