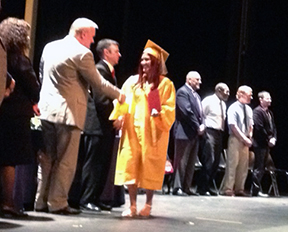 NHS Holds Evening Program Class of 2014 Graduation
NEWINGTON - At the start of Newington High School's evening program graduation ceremony, Dr. Thomas Abbrauzzese, the director, began his address to 23 members of the Class of 2014--those who left school but returned for their diploma--with a quote from Senator Robert Kennedy.
"There are those that look at things that are and ask why?" Abbrauzzese said. "I look to things that aren't and ask why not?'"
He added, "This is true of all of our graduates. They now have the chance to shake the world."
Four years ago, Carol Riccardo, the Raymond R. Newman Award recipient, asked herself the same thing.
"One promise that she made to her kids is that she would get her high school diploma," said Aaron Alder. "She said, 'I want to be able to tell my daughter, I want to be able to tell my granddaughter, that I'm a high school graduate.'"
Riccardo was past her mid-30s and working a full-time job. Alder said that when he first saw her in the hallway of Newington High School during the first night sessions, he thought she was a teacher.
"When I first started out it was pretty scary," Riccardo said outside the Newington High School auditorium after the ceremony. "But as time went on, I loved the kids, the teachers and the parents. I loved the whole experience."
Riccardo took classes part-time, two nights a week, in order to manage the responsibilities of her job, school and family. Full-time students attended the program four days a week.
"With my job, I was out early enough that it wasn't that difficult," she said. "I didn't have to struggle as much as the other students."
Board of Education member Josh Schulman, a Newington High School graduate himself, began his word of advice with a question. He asked parents and other audience members to close their eyes and for students to raise their hands if they had doubts that they would be sitting in the auditorium, dressed in caps and gowns and about to receive their diploma.
"Set your expectations higher," Schulman told the group. "If you expected to be here, great. If you didn't, set them higher."
And don't forget to make the most of the journey, he said.
"I hope that in the years you were here, it wasn't just about the piece of paper," Schulman said. "I hope you met a lot of friends, learned about yourself. It's cliché to say 'it's the journey,' but it is."
And not everyone's journey is the same, said Superintendent of Schools Bill Collins. He must have opened his eyes when Schulman had asked for a show of hands.
"You all took a different way to get here," Collins said. "It was nice to see that most of you thought you'd get here, and you got here--that's the most important thing."
The program, which operates courtesy of an $85,000 state grant, is free for Newington residents. The district charges a "small tuition" to students from Wethersfield and Berlin.