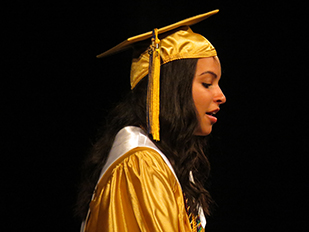 NHS Graudates Urged to 'Enhance their Perspectives'
NEWINGTON - Newington High School Principal James Wenker began his address to the Class of 2014 with a story that starts with a young man, fresh out of college, sitting in a job interview.
As the conversation is wrapping up, the human resources representative asks him if he has anything to add.
"He told the executive he was looking for a salary between $180,000 and $200,000," Wenker said.
The interviewer tells the candidate that not only will he receive the high salary he is requesting, but he will have full benefits and a company car, Wenker said.
"The graduate couldn't contain himself," he said. "He belted out, 'Are you kidding me?!' [The executive said, ] 'Well yes.'"
Members of the audience, Newington High School graduating seniors that have yet to set foot on a college campus, let alone think about exiting that stage and moving onto the workforce, may have been wondering where Wenker was going with this.
The principal continued.
"It's amazing what we feel we are entitled to," he said. "What the young man should have been concerned about was what value he could add to the organization, not what he could get for himself. This idea of value requires us to think about what others need."
And to do that, one must remove the insulation that is his or her own biased view of the world as it fits their own wants and preconceived notions, Wenker said.
Wenker never said whether or not the story was true or not, but he had some real ones, from his own experiences, he shared in illustrating his point. His travels have taken him to Germany, Egypt, Spain and Mexico. He described his time in Central America, where he listened to communities recount the casualties of ongoing civil wars.
"The news reports that we were getting referred to them as communist Sandinistas," Wenker recalled. "Really, they were just poor farmers looking for a better life. When 95 percent of the country's wealth is held by 5 percent of its people, you have a recipe for dissention."
Then there was the time he spent living in Israel, just miles from the West Bank.
"The depiction of the Middle East that we get on CNN is interesting, but I was there," Wenker said. "I did not meet one Palestinian who was not kind and generous--hardly what you would call a terrorist--but you wouldn't know that, if you stayed at the Hilton."
His point?
"You don't know what you don't know," Wenker said. "We're so content to just live within the walls of our perspective. Enhance your perspective and you'll have a chance to bring some value to the world."
Throughout the roughly two-hour ceremony held at the Oakdale Theater in Wallingford last Tuesday, the graduates heard plenty of perspectives. Most were thankful--to the parents, teachers, and other Newington High School staff members--as well as encouraging.
Wiktoria Bis, one of two valedictorians in the Class of 2014, described the feeling of departing Newington High School in her own address.
"It's the feeling of infinity," Bis said. "Infinity cannot be limited--it's boundless. We're starting a new chapter in our lives and it's blank. It can be whatever you want it to be."
The feeling is not new to her. When she was still a student at John Patterson Elementary School, her fourth grade yearbook read that she aspired to become a doctor, a teacher, a singer and a movie star.
"I can't sing, so scratch that," Bis said to chuckles from the audience. "I've never acted, unless you count my role in Hamlet. I'm not much of a teacher, but I gave myself a lot of options."
The one she chose is far from lacking in ambition--Bis is going to school to study biomedical engineering.
"It's never too late to find your passion," she said. "If you already jumped off that cliff, you can climb back up and jump off again."
And about those passions? Don't let anything sway you from pursuing them, said Kira Mason, the Class of 2014's other valedictorian. She quoted Albert Einstein.
"Logic will get you from point A to point B," Mason said. "Imagination will get you everywhere."
She added, "I ask you to think back to your most imaginative goal. At what point did you turn back from that goal? Finding a job: That's going from point A to point B. Finding happiness: That's everything."