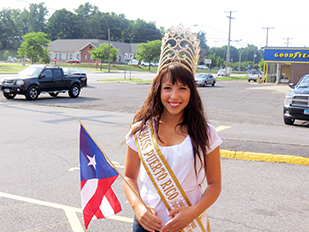 Newington Resident Earns Miss Puerto Rico Title
NEWINGTON - Newington High School sophomore Aliana Ayuso remembers the final moments before she took the stage at the Miss Puerto Rico beauty pageant in Hartford in May.
The months of preparation--and the countless hours she and her mother, Jennifer Martinez, spent crafting the dress she wore--would not avert a near disaster that occurred as she was about to meet the judges.
"The dress I made was falling apart," Ayuso said.
Martinez sat next to her.
"We had Velcro and lights for the dress," Jennifer said. "It was falling off. It's your typical stressful pageant, but you had to walk on stage and hope nothing else happened."
All that happened from there was that Ayuso won the pageant, the first she's ever participated in, in all seven of the categories that she entered. And that's the other thing: In addition to preparing the dress, which had to be designed to reflect historical themes of a town in Puerto Rico, Ayuso had to prepare a song for a talent segment and become versed in aspects of the country's culture.
"Her schooling has to be up to par," Martinez said. "They check her grades. As a parent, you like that because you look [the event] up and see 'beauty pageant' and think, 'oh no,' but this one's a little different. It's not just a beauty pageant."
They both agreed that taking part would be a good way to connect with Puerto Rican culture.
Ayuso knows a little bit of Spanish, courtesy of her grandmother, and some of her relatives still live in Puerto Rico.
"It gave me the opportunity to take that further," she said. "Even before the pageant, I was very tied to my culture, so it was my chance to show that."
The first task was the dress, which Ayuso and Martinez wanted to use as a canvas to illustrate what the Puerto Rican town of Morovis is all about.
"Our town was known for an instrument called the quarto--it's a guitar," Martinez says. "It also has a coat of arms, so we needed to learn about that and use it in the dress."
And it was a team effort, with both of them adding touches to it whenever they had the chance.
"I work third shift and I would literally take it to work and work on it in my off hours," Martinez said.
And then there was the song, which Ayuso not only had to practice singing, but learn in Spanish.
"It took me a month to learn the words, be able to cut the timing, then learn the song itself," Ayuso said.
The song she chose was called Boricua en La Luna, which is based on a poem.
"Boricua is a slang term for Puerto Rican--in the moon," Martinez said. "It's a poem about a guy who wasn't born in Puerto Rico, but the idea is no matter where you're born, Puerto Ricans are the same bloodline."
That's what Ayuso would sing in front of over 200 people--the biggest crowd she had been ever been in front of at that point. Since the pageant, she sang the Puerto Rican national anthem at the Bushnell Pavilion in front of 50,000 people.
"I've never actually had lessons," Ayuso said. "I sing at home; I've been singing since I was little. That was kind of the first bigger crowd. It's not the same as singing in front of my mom."
"It's not the same listening, either," Martinez added.
"She was more nervous than I was," Ayuso said.
Chalk it up to another crash course that resulted in a first place finish.