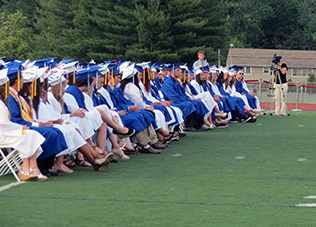 Rocky Hill Graduates Ready for the Next Step
Class Valedictorian Laura Dobmeier reflected on each new transition she and her fellow graduates have been through in the Rocky Hill Public School system.
"It seems like just a week ago I was at the fifth grade stepping up ceremony at West Hill [Elementary School]," Dobmeier said in her valedictorian's address. "I was excited, yet a little nervous, for the new responsibilities…I lived through it, I worked through it and I figured it out."
Dobmeier and her classmates did the same for their transition from Griswold Middle School to the high school. Now, the graduation seniors--150 of whom are headed to college, one to prep school, 12 to the work force, six enlisting in the military and nine still deciding--must again work through it and figure it out.
"We are all ready for some new challenges in our lives," Dobmeier said, before thanking the teachers of RHHS for their help along the way.
In his remarks, Mayor Henry Vasel took the opportunity to thank the graduates of the Class of 2014.
"In a very small way, this is our opportunity to say thank you. Thank you for trying, thank you for not giving up," said Vasel, who began his speech by humorously showing his solidarity with this generation of graduates by taking a quick "selfie" with the class. "As you go through life, you won't find anything will be easy. Never believe the sky's the limit; not when we have footprints on the moon."
Class Salutatorian Lillian Morse, who also served as the class president, addressed that their graduation night would likely be the final moment the Class of 2014 was all together before going their separate ways.
"I hope wherever you end up, none of you forget where you're from, or this class," she said.
Wethersfield High School Class of 2014:
Stephanie Anene Abadom, Louisa Rae Acca, Pamela Amy Aderhold, Alex Teelak Ajodhi, Tracey Lynn Allegretti, Thomas Almy, Kirstyn Louise Arcata, Lynn LaCava Aureli, Katarzyna Sylwia Baliga, Thomas Fulton Barnes, Gerald Silk Baxter, Margaret Amelia Begen, Nicholas Robert Benson, Kraymer Anne Mae Bond, James Michael Bondi, Michael Thomas Bordonaro, Christopher Lee Bouchard, Ashley Julia Brescia, Michaela Patricia Broculgio, Chelsea Marie Bronk, Ana Luisa Victoria Brown, Spencer Joseph Bunting, Erica Anne Buonanno, Diana Estefany Cabrera, Alexandra Marie Calafiore, Paul Michael Calafiore, Jessica Calderon-Rodriguez, Leonardo Calderon-Rodriguez, Nicholas Cody Carducci, Eric Peter Carlson, Thomas Francesco Caruso, Nicole Donna Cassarino, Frank Salvatore Catania Jr., Marissa Nicole Catania, Sajma Cecunjanin, Chris Cermola, Faith Maria Chasco-Dimauro, Jake Austin Chipkin, Amanda Ashlynn Chiulli, Ben Thomas Ciccaglione, Kelly Mae Clark, Kerry Danielle Clark, Gianpaolo Gregory Colasacco, Amanda Rose Coler, Joseph Noel Colon, Jeremy Francis Cooney, Kayla Elizabeth Cosgrove, Alexander Larson Cramer, Liana Mei D'Attilio, Dominique Amelia D'Costa, Abigail Barbara Daniels, Morgan Rose DaSilva, Larissa Ann Denisky, Shelby Nicole Devanney, Kelly Ann Devine, Jose Luis Diaz, Cristina Leanna DiBlasi, Tyler Antonio DiLoreto, Laura Marie Dobmeier, Kyle Doremus, Taryn Potter Dunn, Billy Fabrice Duvalsaint, Gregory Mack Dziopa, Mary Rose Elias, George James Emmanuel, Erik Mason Evans, Jocelyne Liz Ferreria, Julian Michael Fonseca, Spencer Ryan Freeman, Jaymee Jordan Frey, Zachary Andrew Gagne, Kenshaun Marqualle Gamble, Wyatt Neal Gantenbein, Austin Robert Gariepy, Obed Michael Genovese, Cassandria Noel Gordon, Brandon William Grover, Amanda Leigh Hanson, Ahmed Hasaan, Emanuel George Hatzikostas, Rachel Lynn Haze, Ashley Ann Medina Heredia, Kristen Ann Hofmann, Ryan John Hogan, Tyler Edward Holmes, Jacqueline Ann Horn, Kendrick Ernest Hunter, Krista Jane Iacobucci, Sneha Jayaraj, Andrew Joseph Jenkelunas, Ty Michael Johns, Thomas Edward Kelly, Valerie Ann Kobialka, Peter Michael Kohanski, Steven Louis Kolakowski, Andy Alex Kossowski, Emily Joy Kovanda, Sally Morrissey Kurdziel, Paris Nicole Kuzoian, Tyler Thorne Landry, Heather Zachary Lawlor, Erika Gould Leonard, Cherie Michelle Lepak, Haley Michelle Lepsik, Alanna Maria Lionetti, Gianna Maria Lionetti, Stephanie Nicole LoGiudice, Stefen Joseph Lonero, Kevin Michael MacDonald, Leah Elizabeth Magnoli, Jack Evan Malespini, Kristian Manushi, Yomari Marcano, Jessica Sara Markowski, Tahlia Alexis Martinez, Gregory Joseph Marzilli, Nina Nadia Mendez, John Mezzio, Aaron Tomas Moore, Angela Marie Morin, Lillian Laura Morse, Anishaa Mukherjee, Emma Jane Mulvey, Dana Mykel Mundle, Elio Nallbani, Azra Novalic, Jameson Kelly O'Connell, Keila Marie Ortiz, Sabrina Marie Ortiz, Alexandra Rose Osgood, Kelsey Cara Ott, David Christopher Outeiro, Vincenzo Brooks Pappalardo, Jasira Jinnelly Parks, Clayton Alexander Parrotta, Akash Pankaj Patel, Sanil Mukesh Patel, Erica Chrisanthi Petropoulos, Austin Michael James Porter, Taylor Ashley Poulin, Nacharely Marie Ramos, Anees Ur Rehman, Josef Angel Riccio, Jennifer Michelle Riera, Toni Rose Robbins, Garrett John Robinson, Christopher Rogowski, Nicole Marie Romano, Barniel Rosario, Mark William Rugar, Cynthia Danielle Ruiz, Jacquelin Marie Saucier, Emily Marie Savage, Dalton Alexander Schwarcz, Ryan Allen Schulenburg, Thomas Vincent Seaver, Adriana Selimaj, Aasimahmed Maksud Shaikh, Luke Vincent Sinopoli, Emma Catherine Skultety, Kathleen Virginia Slavin, Sarah Elizabeth Slowik, Alexandra Paige St. Germain, Caleb John Stevens, Cameron Dana Sweeney, Kevin Bennett Sylvestro, Molly Paige Tallberg, Alex Wei-Teik Tan, Nazila Tatashadze, Wren Leila Tenore, Tishina Elizabeth Thompson, Thaia Olivia Tzickas, Caroline Ellen Veinot, Johannah Eileen Veinot, William Edgar Wilson, Ashley Rose Wojtkowiak, Christopher Lawrence Young, Joshua Cyman Zawisa, Xin Zhang.