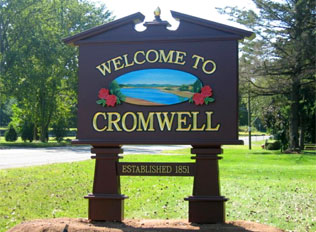 Cromwell Offers Rx Discount Program
CROMWELL - The Town of Cromwell, through its association with the Connecticut Conference of Municipalities (CCM), the statewide association of towns and cities, is now providing a new prescription discount card that will provide uninsured and underinsured residents steep savings on prescription medicines.
Cromwell is a member of CCM and this program is only available to CCM member-communities. One hundred and fifteen municipalities have joined this program and saved Connecticut residents over $3.8 million in prescription costs.
In Connecticut, over 800,000 residents lack prescription plans, have very high deductibles or have restrictions on Medicare reimbursements.
The "Town of Cromwell Prescription Drug Discount Card" helps residents save money on their prescription medications any time they are not covered by insurance.
Anyone can participated, regardless of age or income; there are not forms to fill out. There is no cost to the municipality or to participating residents and all prescription medications are covered, including pet prescriptions that can be filled at a pharmacy. Cost savings are on brand name and generic medications and there are over 63,000 participating pharmacies nationwide, including CVS, Rite-Aid, Walgreens, Wal-Mart, Stop & Shop, Big Y and many local pharmacies. Discounts are also offered on other medical services including vision, hearing and Lasik services.
"Ensuring that our underinsured residents have easy, no-cost access to better prescription coverage is a win-win situation for the town government and our residents," said Cromwell Town Manager Jonathan Sistare.
"CCM is pleased to offer this valuable community service to the Town of Cromwell," said CCM Director of Member Services and Marketing Gina Calabro. "This program will help residents save money on their medications if they don't have prescription insurance and also if their current prescription program doesn't cover certain drugs."
Each residence in Cromwell will receive a "Town of Cromwell Prescription Discount Card" by mail, which they may use at any participating retail pharmacy. Cards can also be printed by visiting
www.CTRxDiscountCard.com
after the cards have been mailed and by selecting "Town of Cromwell." A list of participating pharmacies is also available on the website.