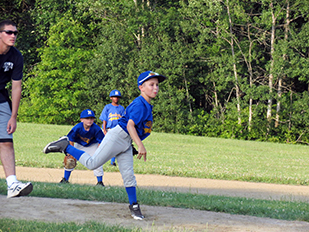 Newington Blue Out-Pitches Wethersfield Navy Little League
NEWINGTON - A shut down pitching performance led by Jacob Trommer and Sam Droz halted a Wethersfield 7/8 Navy rally and helped the Newington 7/8 Blue Little League team seal a 6-3 victory at Wallace Field last Tuesday night, July 8.
With the visitors threatening to cut into Newington Blue's 3-1 second inning lead, Trommer came to the mound. Three fast balls later and he had gotten his team's first out of the inning, retiring the Wethersfield Navy batter on strikes. He ran into difficulties only momentarily, walking the next player to come to the plate, but he recovered just as quickly with the next would-be hitter he faced.
Trommer would send him back to the dugout with a second strikeout, and then, it was Droz's turn to pitch. While Trommer proved seemingly unhittable with his fast ball, Droz took the opposite approach. His changeup baited the batter to swing-and miss-three times for the final out of the inning.
Just an inning before, it looked as if Wethersfield Navy was going to have a high scoring game for itself. The visiting hitters hung in for long at-bats to the tune of walks that would eventually load the bases. Good eyes at the plate served them one more time, as Newington Blue would walk in the first run of the game.
But with two strikes, two outs, and the bases still loaded, a clutch pop up catch at the mound ended the Wethersfield Navy at-bat before the rally could build up anymore steam.
Newington Blue had some patient batters off their own, with Jack Stair earning a walk to start the bottom of the first. A base hit from Nazario would put him in scoring position at second base, with the batter taking the out on a timely Wethersfield throw to first. Trommer was the next to come to the plate, and he too walked. The Wethersfield Navy pitcher got to a full count on Clay Taylor, but he held on to walk and load the bases.
Newington Blue would tally three runs in the walk rally that followed.
In their second inning at-bat, Newington Blue turned good eyes into hits. Jack Stair stole the spotlight when he drove in two runs off of a double. Isiah Alicea, Akari Rosemond, Shane Pienkos, Adam Alexander and Trommer each had hits for Newington Blue.