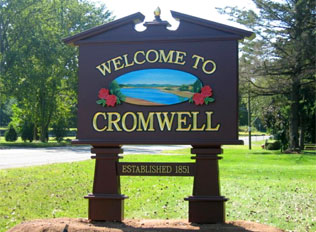 Doug Sienna Named Republican of the Year
CROMWELL - Allan Spotts, chairman of the Cromwell Republican Town Committee, is pleased to announce that Doug Sienna has been chosen as the 2014 Cromwell Republican of the Year. A luncheon to celebrate Doug and his many contributions to Cromwell is being hosted at BillyTee's Hideway Sunday, Aug. 24, at 1 p.m.
"Doug has been a dedicated civil servant in our community for years. From his many years of service on the various boards and commissions to being elected Tax Collector. He as been our advocate and strong voice on the Mattabassett District Commission always looking out for the best interest of Cromwell. He has a love an passion for our town and we are so lucky to have him as he is a true asset to our community," said Mayor Enzo Faienza.
Sienna is the current Cromwell Tax Collector and has held multiple elected positions over the past three decades. Sienna's many volunteer roles have raged from his initial role on the Board of Education, a period on the Planning & Zoning Board, and his long time role as a member of the Mattabasset District representing Cromwell. In addition, Sienna has served as the Treasurer for the Cromwell Republican Town Committee for decades and has also served as Treasurer for a number of state and local candidates. He is also an active member of St. Johns Parish as well as the Rook Retirement Community.
"Doug is very deserving of this honor. He has spent decades serving the people of Cromwell. It's only fitting that we recognize the years he has graciously given his time and talents to many. I'd like to invite his friends and family to join us in recognizing Doug, said state Rep. Christie Carpino.
Tickets for the celebratory luncheon honoring Sienna are $50 each or two for $90. Tickets can be purchased by calling Allan at 860-978-7903 or Christie at 860-635-8725.