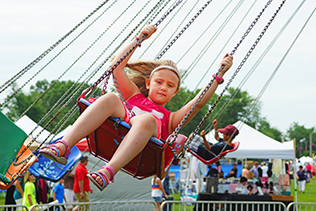 Annual Extravaganza Celebrates Newington
The midsummer celebration featured more than 100 vendors, including artists and crafters, non-profit organizations, civic groups, local businesses and food concessions. Music, entertainment, carnival rides, games and other family-oriented fun and activities culminated in Saturday's day-long festivities and spectacular fireworks display.
"I think this is the eighth year we've come," said town resident Ken Grattage, who waited with his wife, Kathy, while their children Olivia and Nick enjoyed the Musical Chairs ride on Saturday morning. "The family fun keeps us coming back. We like the fried dough and we'll be back later for the fireworks."
Olivia and Nick were all smiles as they exited the ride and declared the Extravaganza, "A lot of fun!"
Bakery manager Shannon Gormley and cheese master Amanda Faust manned the popular Best Market booth.
"We've enjoyed meeting people and talking about our store, which opened in October of 2013. We're here to show Newington that Best Market offers great prices and great products, like the delicious fresh mozzarella Amanda makes, and to give away prizes," said Gormley.
Christine Mooney and her 18-month-old daughter Charlotte spun the Best Market roulette wheel and won a $5 gift card.
"I haven't been to Best Market yet, but I'll be going now," Mooney said with a smile. "We're here today because my husband, Mark, has a booth. He owns Mooney Real Estate, so we want to support him and also do fun stuff like go on rides."
Long-time resident Ann Albert and her daughter, Michele Aponte, who was visiting from Mississippi, checked out the Lucy Robbins Welles Library booth.
"The kids are still in their pajamas so we decided to come out early," according to Albert. "We enjoy seeing all the different arts and crafts and we usually run into people we know. Michele is bringing the kids back later to enjoy the carnival rides and we're all looking forward to the fireworks.
"There are some clouds in the sky so the sun's not very hot. The weather is ideal. I'm really enjoying this day."
Library Director Lisa Masten called the Extravaganza "a great place to meet people as well as to see people who use the library all the time. We're here to promote the library's 75th anniversary and our Wizard of Oz Extravaganza. We'll be showing the movie simultaneously in three places on Friday night, Aug. 1. One showing will be up in the Childrens' Room so people can come and go. There will be a sing-a-long version downstairs, and we'll have the purist version in another area of the library where there will be no talking.
"We're also here to promote our One Book project. We're doing a community-wide reading event of the book "Defending Jacob" by William Landay, who will be speaking at the library Sept. 14 at the Library Board's annual meeting."
For Gina and Don Lavery, the Extravaganza provided "the perfect day and the perfect place for us sell T-shirts and to get the word out about the 10th annual Master Police Officer Peter J. Lavery Memorial Motorcycle Run, which will be held on Sunday, Sept. 21, at Churchill Park. We had around 600 riders last year, and since this is the 10th year, we're hoping for an even bigger turnout."
Don's uncle, Peter, a 17-year veteran of the Newington Police Department, was fatally shot in December of 2004 while responding to a domestic disturbance call. Monies raised from the T-shirt sale and the motorcycle run benefit the Peter J. Lavery Scholarship Fund, which distributes scholarships annually to students enrolling in the fields of law enforcement or criminal justice.
Monday's free Family Pool Party at Mill Pond Pool for town residents got the Extravaganza underway.
New for 2014 was a Family Tie Dye Party with Menchie's Frozen Yogurt at the new pavilion in Mill Pond Park, on Wednesday.
"We're here to invite everyone to our grand opening on July 20 as well as to the week-long celebration we have planned," said Jad Chawi, owner of Menchie's. "We have something going on along with some great giveaways every single day.
"We want to be part of the community so we offered to sponsor the Extravaganza's new event, the Family Tie Dye Party, which turned out to be a great success. We had a big turnout and gave away about 350 cups of frozen yogurt in an hour and a half. We also had our mascot, Menchie, here on Wednesday. The kids loved having their pictures taken with him. We did a lot of contests and gave away 30 T-shirts, five dodge balls and three Menchie dolls. It was a lot of fun. I enjoyed it. Menchie enjoyed it and so did the kids."
Newington's own "Collectivity" opened Friday's Concert in the Park, sponsored by Data-Mail, Inc., and also featured the Journey tribute band "SCARAB" and plenty of libations in the Adult Beverage Garden
Youngsters and those young at heart delighted in carnival rides like the Octopus, Scrambler, Carousel, Hook and Ladder, and Hymalaya, the Chickn Coop Funhouse and Bounce Castle, the fast-paced water balloon race, the fun and creativity of Sandart and plenty of treat options and carnival favorites like apple fritters, fried dough, sundaes and slushies.