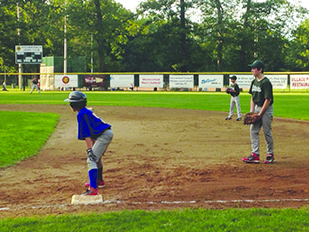 Green Eagles Rallies Lead to Home Victory Over Indians
WETHERSFIELD - Through three innings of play, Ryan Berasi pitched to near perfection.
He had four strikeouts, only gave up one run, and pitched the Wethersfield 11-12 Majors Green Eagles out of a bases loaded jam in the third inning. But the Newington bats came to life in the fourth, knocking in three runs to erase a 4-1 deficit and bring the two teams even in the Mill Woods Park nail biter last Thursday night.
But the Green Eagles would backstop their pitcher the way he had backstopped them. It wasn't the size of their earlier rally--a four-run surge in the bottom of the first--but it was enough to get the job done.
Ethan Sitler started things off with a walk, and he would finish it when he crossed home plate as the go-ahead run after a series of wild pitches.
Matt Silver would finish the Green Eagle pitching performance, leaving Newington runners stranded at first and second to end the Indians last at-bat and seal the win for Wethersfield.
The Green Eagles recovered from giving up a run--off a triple that sent a runner on first home--at the top of the first when they stepped up to the plate for their first at-bat of the game.
It was Sitler, again, who got the rally going with a grounder that snuck through first and second for a base hit. After a wild pitch advanced Sitler to second, Berasi came to the plate to show that he can do more than pitch. He would double out to right to bring Sitler home and get Wethersfield on the board.
Silver followed that up with a single, and Evan McNeice brought him and Sitler home with a triple with his at-bat. The Green Eagles' fourth run would come off a double from Aaron Guay.
Berasi made quick work of the Indians' second inning at bat, and it appeared that he would do the same in the third. He started the inning with two consecutive strikeouts-the second with the help of a couple of deceptive change ups.
But then the Green Eagles gave up a base hit. Another single and a walk later, and the bases were loaded. Unfortunately for Newington, the inning would end how it started. Berasi struck out the next batter to leave the runners stranded and get Wethersfield out of the at-bat unscathed.