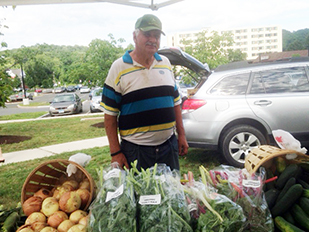 Newington Farmer's Market Sees Increase in Vendors
NEWINGTON - In the middle of the busy Market Square parking lot in Newington Center, Harry Childs' vegetable stand might stick out somewhat.
At least it'll make him easier to spot. It's a little after 4:30 p.m. and Childs takes a break on a nearby bench while another employee of Franklin-based Paper Bag Harry's Farm mans the stand, which, for just a few more minutes before the after-work crowd arrives, is quiet.
That won't last long. Cars start pulling up and a gradual influx of close to 10 people--a lot for the small patch of space the four stands of the Newington Farmer's Market are taking up--survey the variety of fresh fruits and vegetables, homemade jams and even pizza provided by the vendors of this summer's market.
"They like our kale," Childs said. "They like our beets and organic salad mixes. They like the fresh greens."
Childs is a market original. In fact, he considers himself a Market Square original.
"I was one of the first ones," said Childs, who has been with the Farmer's Market for six years now. "I was here when there was just mounds of dirt, before it was developed. There were many times when I was the only vendor. Now we've gotten many more."
It still looks small, because not every vendor shows up every week. Last year the market had three farmers. This year that number has tripled, according to Childs.
"It keeps the economy local," Childs said. "It's better products for the money."
In the case of Paper Bag Harry's Farm, that means vegetables and produce that are pesticide, herbicide and fungicide-free.
"You're not going to get that in the supermarket without paying premium price," he said.
You won't get Shannon Carnese's homemade pear-apple jam--just one flavor of Old Lyme based Shannon Jammin' Jams' wide variety.
"At this market today, they wanted to buy all the spicy ones," Carnese said. But they all stand out. My favorites are pear-apple and citrus ginger."
I had a chance to see for myself. Her table was lined with free samples of every flavor and she let me try as many as I wanted. Welch's and Stop & Shop brand jelly will never taste the same again.
"They're all natural, fresh ingredients," Carnese said. "They're all unusual varieties, many of which you can't find in the store."
If there's a cornerstone theme to the Farmer's Market, it's fresher, healthier products that cannot be found--at least not at a decent price--at your typical supermarket chain, Childs said. But if there's a demand, he has not seen that make much of a dent in his supply.
"We grow more than we can sell," Childs said. "We end up going to the soup kitchen with some of these because we can't sell 'em."
Childs estimated that Paper Bag Harry's Farm gives away 60 percent of the food it grows.
"It costs me money," he said. "Someone has to do the picking, and someone has to deliver it."
The Farmer's Market runs from 3 to 6 p.m. on Thursdays and 9 a.m. to 1 p.m. on Saturdays.