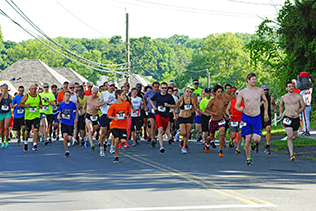 Children With Dyslexia 5K a Family Affair
"We try to make the Scottish Rite Freemasons experience a fun, family experience, scheduling events and activities that get families involved. This event is under the wing of Family Life because we have many families helping out as volunteers," said Flynn, the organization's Family Life chair. "Some of our other Family Life activities include going to the Goodspeed Opera House and attending Rock Cats baseball and Hartford and UConn women's basketball games."
"We have our own charity, a learning center called The Children's Center for Dyslexia, so all of today's proceeds go to help children with dyslexia," he added.
"This is a pretty difficult course with some killer hills that's USATF [USA Track & Field] certified and professionally timed. Because of our generous sponsors and our more than 50 volunteers, our only costs today are for T-shirts, trophies and timing. Dale Cunningham organizes our volunteer force. He's also in charge of water stations and road spotters," Flynn continued. "Tony Angelica is in charge of our online, mail and walk-up registrations. Earl Evans picked up the oranges and bananas that Fresh Point donated, brought them here, cut them up and then set up the tents and tables. He was one of seven volunteers here at 6 a.m."
Robert Forsyth, a member of the Scottish Rite Freemasons, and his daughter, Abigail, arrived around 6:30 a.m. to help set up and staff the refreshment tent.
"I love volunteering and helping out," said Abigail. "This is great, working with my dad and spending time with him. It's our third time volunteering for this race, so it's become kind of a tradition. This is a great event to benefit children with dyslexia. I like how this brings people together and it's a fun event."
First across the finish line was 13-year -old Jason Beaver, from Agawam, Mass., with a time of 19:33. His dad, Spencer, jogged some of the course with Jason's sister, Kimberly, who finished 38th (28:19).
"This was my first time running this race," said Jason after he cooled down. "The course was hilly, but the race was peaceful and I enjoyed it. I usually get in the 18's, like 18:30, so my time today was about a minute slower."
According to Spencer, "We try to run a race every weekend. Since there weren't any in Western Massachusetts today, this was the closest race to Agawam. We would definitely come back. This was a nice race with friendly people and it was for a good cause."
Sydney, Samuel and Noah Nash, 13-year-old triplets from Enfield, and their father, Dean, all posted strong showings.
Sydney secured the top female finish and was fifth overall with a time of 20:41. Samuel was right on her heels, taking seventh (21:26). Noah just edged out his dad for 15th, (23:54), by 0.02.
"The course had a lot of hills, and I don't really like hills. I just finished JFK Middle School and I ran cross country there," said Sydney, who looked like she could easily take another trip around the course.
Bob Kania, a dentist from Southington and one of the race's senior competitors, finished 32nd in a time of 27:30. "This is the first time I've run this race. It's close to my hometown so it's convenient and I've enjoyed it.
"I'm glad they didn't start at 10 a.m. It'd be 85-90 degrees by then. As for the course, the downhills never make up for the uphills. That's my thought. If it was all downhill, I might have won. I'm trying to get back into running. I used to be good and now I'm not. My time? I was first in the old dentist division," he said with a laugh.
Jessica Bennett let her boyfriend, Kevin Roe, set their pace en route to finishing tied for 45th (30:21).
"I figured this would be a good training run and some experience for Kevin. This is his first 5K. I was browsing the web, looking for a race that was reasonably local and supported a good cause, and I found this one.
"I was a high school wrestler and running cross-country helped me keep in shape. I want to stay fit and live a fairly active lifestyle so now I train on my own," said Bennett, 22, who calls Uncasville home.
"Jessica got me interested in running," added Roe. "We run 5Ks on our own just practicing, so I was kind of, sort of prepared. This is a way to keep in shape and an activity we can do together. Running is something that has never been a forte of mine, but maintaining fitness is."
Lori Sakowski of Bristol turned 50 last year. "I joined the Win to Lose Program in October and I've been working out. My daughter, Kayla [Sakowski], convinced me to try doing a 5K, so this is my first race. She and Mike [Ouellette] are here from New Hampshire. Kayla is a physical therapist who runs to support causes, so we came out to support children with dyslexia."
Kayla and Mike provided Lori with encouragement throughout the course, before Lori (41:46) and Mike (41:47) followed Kayla (41:45) across the finish line.
Cheryl Sharkis, Director/Trainer/Tutor for The Children's Dyslexia Center of Connecticut, established in Waterbury in 2002, praised the organization and its charitable endeavors.
"The Scottish Rite Masons have been national leaders in the effort to overcome the painful obstacles of dyslexia. The Children's Dyslexia Centers provide free tutoring for children with dyslexia and train a growing cadre of highly skilled and dedicated tutors. The funds received from this 5K Run/Walk help to offset the estimated tutoring cost of $5,000 per student. Each of the five Scottish Rite Valleys in the State of Connecticut raise supporting funds by various events throughout the year."
Dyslexia is an inherited neurological disorder that challenges the way people learn to read, speak and process things mathematically. While there is no cure for dyslexia, free treatment provided by the more than 50 Scottish Rite Freemasons' Children's Dyslexia Centers, located in 13 states, help children and their families meet the challenges head on.