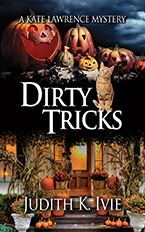 Old Wethersfield Author Reveals Latest Mystery Novel
WETHERSFIELD - Judith Ivie, author of The Kate Lawrence Mystery series, likes to write stories that are close to home--every book in the seven-title saga takes place in Old Wethersfield--but her latest installment has that characteristic in the more figurative sense.
That is because Dirty Tricks, the next adventure for series protagonist Kate Lawrence and her sidekicks, Margo and Strutter, is framed around what she describes as ruthlessness within the publishing industry--an experience Ivie, who owns and runs her own printing house, can relate to.
"I try to have a message in all of the stories," Ivie said from a back booth at the Town Line Diner in Rocky Hill, a favorite hangout spot of hers. "This one's about the darker side of the publishing industry, when darker, creative egos get thwarted. I have personally experienced every incident in this book."
So, harassment at the hands of an author whose work did not get published? Ivie did not specify, but that's essentially the plot of the story.
It starts when Margo's aunt moves to Old Wethersfield. She immediately ruffles some feathers when her secret vocation as a publisher of erotic romance novels surfaces.
"That doesn't go over well in Old Wethersfield," Ivie said.
To complicate her situation further, an author whose book was rejected by her publishing firm also lives in town, Ivie said.
"So all of a sudden she starts getting harassed," she said. "But who is it? Is it kids, neighbors not thrilled with her being there, or the writer she rejected?"
As for the publishing industry, Ivie has worked in enough facets of it to have had the opportunity to peer into its darkest corners. Her career, you can say, started when she was only 10. That was when a magazine wrote her a check for a piece she submitted.
Since then she has worked in communications and marketing, as a speechwriter and as an editor. In 2000, Ivie decided to write mystery novels to break away from non-fiction.
"I got tired of it," she said. "It was like writing term papers, so I stopped."
But she wasn't just running away from something that had grown mundane. For Ivie it was about pursuing what has long been a passion of hers.
"That's what I enjoy," Ivie said. "So I figured I'd take a crack at it."
Eight years later, she was giving a speech to aspiring authors at an event hosted by the Wethersfield Historical Society. The discussion turned to publishing, and Ivie--then an author with Whiskey Creek Press--was talking about the ease at which one can publish in the digital age. Then, a light bulb went on in her head.
"I'm sitting here saying to myself, 'Why am I not doing this?'" Ivie said.
Enter Mainly Murder Press, Ivie's publishing company that, to date, has put out 40 mystery novels. She admits that it hasn't become profitable yet, but she likes the autonomy.
"I am an editor," Ivie said. "I spent 35 years as an editor, writer and speechwriter. I don't need an editor."
She added with a laugh, "Besides, I like being the boss."