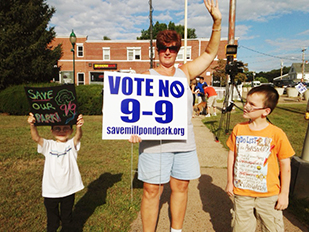 Residents Rally Against Proposed Renovation Project
NEWINGTON - The Sept. 9 Newington Town Hall renovation referendum is approaching, and those navigating the rush hour traffic gridlock at the intersection of Main and Cedar streets got a reminder of that last Thursday.
Residents opposed to a proposed plan to relocate Mortensen Community Center to the Willard Avenue side of Mill Pond Park while renovating the deteriorating Town Hall building--all for around $30 million--held a rally from 4 to 6 p.m., displaying "Vote No 9-9" and "Save our Parks" signs, as well as the blue "Save Millpond Park" T-shirts that have become a trademark of the 1,300-plus member strong Facebook group dedicated to the cause.
"If they take open space, we're not going to get it back," said Wendy Lentini, who has lived in Newington for 55 years.
"It's a historic part of Newington," added Diane Hofmann, who stood next to Lentini, holding a sign.
"I raised six kids here-swimming lessons, everything, in the park," Lentini said. "We all grew up here."
A woman waiting in her car at the traffic light--one of many passing motorists to honk their horns in support--rolled down her window.
"Save our soccer fields!" she shouted before driving away.
That's another concern--the space pegged for the new Mortensen Center is currently two soccer fields. After the Aug. 12 Town Council meeting, the last round of project related public comments before residents go to the polls, Deputy Mayor and Project Building Committee Chair Clarke Castelle said that spots for replacement fields are being considered.
Among the possibilities are putting a field where the pool is if that is moved, near the park's baseball diamond, or between the new building and the pond, Castelle said.
But the more widely voiced concern is regarding open space--the term that has become synonymous with opposition to the proposed project. Many detractors have pointed to the town's 2020 Plan, an advisory document established as a guideline for development and open space preservation in a municipality where the latter is considered scarce.
"We're teaching our kids to be green, save our nature, save our parks," said Sara Jorgenson, a Newington resident and group organizer. "I think we should practice what we preach."
Newington resident Gayle Budrejko echoed this sentiment in a statement given to the TPZ the night before.
"We are on a slippery slope of this project goes through," Budrejko said. "It will set a precedent that jeopardizes all areas identified as designated open space such as Church Hill Park, the Town Green and neighborhood parks. The TPZ worked hard on the 2020 Plan. If you believe in the vision set forth in this plan, please defend it now before it is too late."
According to the 2020 Plan, 91 percent of the town is either developed or pegged for other uses. But the 1.6 acres the new recreation center would be built on is 0.12 percent of the town's remaining open space, Castelle said. There are currently 726 acres of dedicated open space, 433 acres of uncommitted open space and 173 acres of managed open space in Newington, according to the 2020 Plan.
But then there's the cost. Bonding of the $30 million cost will prevent the project from raising taxes--due to a financial formula that caps the combined debt service and pay as you go expenditures at $6.3 million--proponents of the proposal have said, but residents are looking beyond that.
"The $30 million doesn't include maintenance costs," said Newington resident Linda Carney.
Those in favor of the plan, including Castelle and Town Manager John Salomone, do not dispute that, and Castelle expects maintenance to be less of a problem on a new building. Castelle also said that the manufacturer and installer warranties for any new equipment will virtually eliminate these costs for years. But there are other factors within the project itself that could raise costs down the road, he said.
If the project garners enough votes at referendum time, it will move onto Inland Wetlands Commission review--the town's safeguard against any potential damage to nearby wetlands that have also prompted concern. The Commission is known for rigorous evaluation and, consequently, tight environmental measures, according to Castelle. However, that can get expensive, he said.
"If we borrow more money, we'd have to say, 'Yeah, your taxes are going to go up'," Castelle said. "I don't think it's likely, but it's possible."
Salomone, however, is not worried.
"I'm comfortable with the $30 million figure," Salomone said. "It has a lot of contingency in there for inflation."
Downes Construction, the construction management firm that will work on the project if it is approved, will be setting a maximum cost after the bids come in, according to Castelle.
"We don't pay a dime more--he does," Castelle said. "There won't be a cost overrun once we have a max. Now the guaranteed max price might be $36 million. It might be $28 million. We don't know."
The Town Planning and Zoning Commission will weigh-in before it goes to the Inland Wetlands Commission, and that's where another controversy has arisen.
The night before the rally, residents turned their attention to the TPZ meeting, where a letter from Salomone to Craig Minor was introduced into the record. Salomone expressed his intent to refer the project proposal to the TPZ-for its advisory review--after the Sept. 9 referendum.
"With a referendum coming up, it'd [TPZ review of the proposal] would be a monumental misuse of time if it fails," Salomone said.
State Statue 8-24 for municipal improvements states "the failure of the commission to report within 35 days after the date of official submission of the proposal to it for a report shall be taken as approval of the proposal."
That's where interpretations differ. Residents who turned out to the TPZ meeting last Wednesday night thought that the "official submission" was implied through Council action on the proposal June 24. If that was the case, the time frame for TPZ review has elapsed.
But Newington Town Attorney Peter Boorman has a different take, according to Salomone and Minor.
"It has not started because the TPZ has not received the referral," Minor said.
Gennaro Bizzarro, a Newington resident and attorney who attended the rally, said he doesn't know. He admitted that the language of the statute is vague.
"The question is what constitutes the official submission," Bizzaro said. "You'd have to look at sources outside the body of the statute."