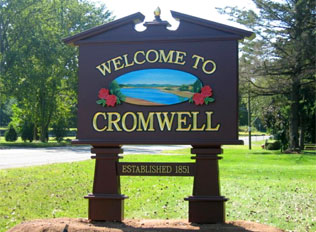 Arts Alliance Inspires Creativity
CAA is committed to inspiring and strengthening a community wide focus on the arts. The Alliance will support, develop, promote and facilitate opportunities for citizens of all ages to participate in and foster appreciation of literary, visual and technical and performing arts. Through these endeavors, CAA aims to bring out the inner artist in every resident.
The task force had been spearheaded by Cromwell's Superintendent of Schools, Dr. Paula Talty, and supported by town leadership, including Mayor Enzo Faienza and Board of Education Chair Mike Camilleri. Last spring, a call for membership on the task force brought in an overwhelming response from citizens, businesses, town employees and students. Current CAA membership is compromised of educators, civic leaders, residents and students of all ages, local business owners and representatives from town government and town departments, such as the library and park and recreation.
Dr. Talty has worked on many new initiatives during her first year as superintendent. A community-based arts entity has been a long-time goal of hers because of the important role the arts can have in both curriculum and community collaboration.
"The arts is a significant component of a child's curriculum. Cromwell Public Schools strive to educate the whole child and the arts provide students with opportunities to learn and express their individuality. I see the CAA as helping to bring the schools and the community closer together through collaborative arts projects," said Talty. 
As many residents may realize--and many have voiced through town forums and community meetings that have been held throughout the past year--there are untapped opportunities in Cromwell. As a result, the Board of Education and the Town have been working together on many new initiatives but the arts were an area that had not yet been addressed.
"There are opportunities to collaborate on promoting, enhancing and sharing the arts in our community.  So far, we have been very excited about the enthusiastic participation and leadership of a couple dozen members of our community who are the founding members of the Cromwell Arts Alliance," said Camilleri.  
"Our school community is very lucky to have a strong arts program with the support of a talented and devoted faculty, interested and proactive leadership, dedicated volunteers, parents and Board members, and most importantly, passionate and talented students," he said. "The Board of Education wants to make the community aware of the arts events and resources in our schools, explore intergenerational arts opportunities, and help promote the arts throughout the entire Cromwell community."
While schools are a primary vehicle for programs and events in town, they aren't the only one for developing arts programs and artistic venues for all residents in town. And that's really what the members of CAA want to see happen throughout the community--opportunities to bring out the artist in every resident--whether they are performer or spectator.
"One of the many good things about the CAA is that it's not just for artists or for those who already appreciate and enjoy the arts," added Camilleri. "It's for anyone who wants the arts to have a more important role in our community."
The goals CAA has set forth include:
 •Programs for audiences and artist with varying interests
•Cultural enrichment through a diverse selection of artistic programming
•Artistic collaboration and/or mentoring programs between community members of all ages
•Opportunities to develop artistic skills and techniques
•Broad and coordinated publicity for all art activities and events
•Arts based projects related to community service and economic development
•Venues and events where artists can present their creative work
•Collaboration between the Cromwell community, local businesses and schools and other regional arts organizations
•Studios, exhibition and performance spaces for individual artists and groups
Presently, CAA has four work-groups that are tasked with carrying out the mission and goals of CAA. These work-groups are: Communications, Intergenerational Opportunities, Space for Arts/Logistics, and Summer Camp. Additional work-groups will be created as needed. Richard Donahue of the Donahue School of Music will act as chairman of CAA.
Local residents, businesses, educators and artists who are interested in being a part of CAA or one of the workgroups should email
CromwellArtsAlliance@gmail.com
. Please include "CAA Membership Inquiry" in the subject line of your email. The Alliance is gathering names and contact information of local artists who may want to teach, present or perform, etc. in the future. Please email CAA and include "Artist Inquiry" in the subject line of your email.
And speaking of future performances, for the first CAA promotional event Camilleri has "invited Mayor Faienza to join me in an acapella performance of Bruce Springsteen's 'Thunder Road' or Eric Clapton's 'Wonderful Tonight.'" We eagerly await Mayor Faienza's reply!