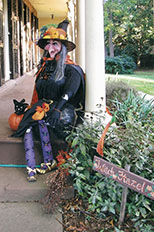 Alter Ego Scarecrow Teaches History Lessons
WETHERSFIELD - Look up the word "miscellaneous" in the dictionary. Seriously, go ahead and Google it, if you don't know what it means already. The definition that comes up should say something along the lines of a "collection or group" that is "of various types from different sources".
Wethersfield resident Elaine Ogren Speranga, with the slew of talents and hobbies that make up who she is, fits this term--she's an artist, a poet, a historian, and a scarecrow, in spirit, anyway.
The scarecrow is "Miscelaineos," Spernaga's self-described alter ego she constructed in 2003. Say that name again: Miscelaineos. Listen to how the middle part sounds--Elaine. That wasn't an accident, and it has worked to blur the distinction between creation and creator.
"People refer to me as her," Speranga said during a phone interview. "I was in the Capitol today and people would say, 'Hi Miscelaineos.' Miscelaineos is an extension of me. We're one in the same. She's in the straw form. I'm in the skin form."
Somebody call Batman because Scarecrow is in the house. But no, seriously, Speranga/Miscelaineos is no comic book super villain. In fact, it's quite the opposite. Through a collection of 70 paintings Speranga has been building since 2006, Miscelaineos has become somewhat of a hero--or at the very least, a really cool sidekick--standing alongside Mark Twain, Harriet Tubman and Betsy Ross, among others.
"I have always been an artist," Speranga said. "I always wanted to do paintings, and one day I just said 'I'm gonna do one of Miscelaineos'."
It's Monday night in Wethersfield's Council chambers. Speranga waits for the second to last resident to have their say during the public comment segment, and then goes to the podium to provide everyone with a break from the discussions about the town's depleted pension fund and state spending, among other items.
She has with her four paintings, the first one being an image of Miscelaineos standing between a snowman and Santa Claus. Santa is uncharacteristically slimmer, and he's wearing a pin that says 'I lost 20 pounds.'
"This Santa is very health conscious," she says to the amused councilors. "I think Mrs. Obama would be very happy with that."
Don't forget President Obama and the Monsanto lobbyists in the FDA.
The contents of Speranga's paintings might, at a glance, seem, as the name of her character implies, miscellaneous, but nothing is placed into the pictures at random, she said. Most of the works have an obvious historical theme. Harriet Tubman, for example, is holding an apple, which was added to depict that the abolitionist figure would be forced to pick the fruit, but punished for eating it. Case in point, every image is designed to educate the viewer.
"People of all ages can learn," Speranga said. "Everything's deliberately in the picture for a reason."
Through Speranga's paintings, Miscelaineos has traveled through time, but in real life, the scarecrow has covered some distance through space. Speranga has brought it to Capitol Hill in Hartford, where she is as a tour guide, as well as to the Bushnell Theatre where she works, hence the fame outside of Wethersfield.
Where to next for her and her alter ego? Speranga is thinking even bigger. She wants to write a book based on Miscellaneous, perhaps a play or movie, even. She's written poetry about her other half and she's even composing a rap. Move over, Jay Z.
"The sky's the limit," Speranga said.
Oh, my mistake--that would be Lil' Wayne.