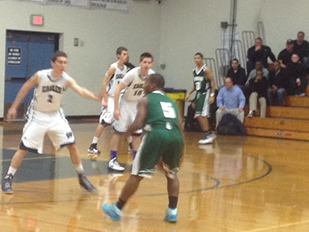 Eagles Secure Another Win Against Weaver
WETHERSFIELD - All game long, the Eagles (4-2) traded baskets with their Weaver High School (1-4) opponents like it was Easter, but it was the fourth quarter resurrection of Wethersfield High's Ryan Peterson that would seal a 72-67 victory--their second in a row--at a home game last Wednesday, Jan. 2.
Early foul problems prompted the Eagles Head Coach Brian Fanelli to sit the junior for most of the first three quarters, but it paid off when it typically matters the most--Peterson exploded for 18 fourth quarter points.
"It was a matter of strategy," Fanelli said. "With three fouls, he had to sit for a while. I knew I was going to need him in the fourth quarter. He had a hell of a fourth quarter; probably the best I've ever seen."
Peterson hit a three-pointer, one of his two from behind the arc, with the Eagles trailing 43-48 with 7:23 left in the fourth quarter to pull them to within two. He would strike again at the six minute mark, crashing the front of the rim to lay in a rebound to put the Eagles within one point, at 49-50. Wethersfield pulled ahead when Peterson took a dish from Pierce Weatherspoon in transition and took it to the bucket for a 51-49 lead with 5:15 left.
"The funny thing is everyone is going to say the big thing was his points, but it was on the defensive end," Fanelli said. "He had two huge blocks."
The first came on a transition break, with about two minutes left. A Beavers player got behind the defense and took a court-length pass that appeared to set up an easy, all-alone layup, but Peterson would have nothing of it. He caught up to the would-be scorer and rejected his attempt.
Peterson wasn't done after that--he took the rock back the other way to assist Weatherspoon on the basket that would put the Eagles ahead 61-57.
Bryan Molloy had 16 points for the Eagles, and was responsible for much of Wethersfield's pre-Peterson surge production. Weatherspoon also had a strong offensive performance, chipping in 15 points.
The Eagles broke their winning streak in a Friday home game