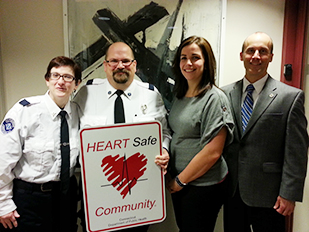 State Names Wethersfield a Heart Safe Community
WETHERSFIELD - A person having a heart attack needs an automated external defibrillator (AED) within four minutes after the onset of cardiac arrest in order to have a good chance of survival.
That doesn't leave much room for error for the ambulances rushing to the scene, but other people can help, and Wethersfield has been preparing its residents to be equipped to do that. In fact, they've done such a good job that the state has awarded the town a Heart Safe Community designation, which was made official at a Wethersfield Town Council meeting two weeks ago.
"The longest time of a person's life can be the minutes between calling 9-1-1 and the point when they hear those sirens approaching," said David Bailey of the state Department of Health, who came to the meeting to present the award. "It's about recognizing the people that volunteered to fill those minutes."
The effort to improve the town's level of cardiac arrest preparedness, which began in 2007-08, has been spearheaded by Phil and Kim Lombardo, who head Wethersfield's Volunteer Ambulance Association. The Heart Safe program focuses on training community volunteers to become certified to use an AED, but first the town needed to actually acquire more of the equipment.
"When we first started there weren't enough AEDs," Phil Lombardo said. "Back when we started four years ago, I think the high school had two. There were none in the middle school and one in the elementary schools."
Through an aggressive outreach campaign that involved fundraising initiatives from local parent/teacher organizations, the town managed to equip every grade school with one AED, while adding two to the middle school, Phil said.
At the time, one AED cost anywhere between $800 and $1,000, he said.
"This is very important for Wethersfield," said Wethersfield Mayor Donna Henmann at the Council meeting. "Trying to aid our neighbors and friends is very important."
The next step was training people to use them. The Lombardos held classes in an effort to reach the Heart Safe quota, which, for Wethersfield's population of 25,000-26,000 residents, called for 50 new AED certifications.
"We've gone quite over that," Phil said. "We have several hundred people we've trained to become AED certified."
The town will be reevaluated for renewal of the Heart Safe designation every three years.
"It's not a one-time thing, because we'll have to renew the training of those trained and get new people," Phil said.