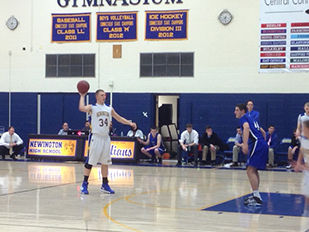 Blair, Morander, Help Indians Surge Past Hall
NEWINGTON - A stellar scoring effort from Newington forward Timmy Blair, coupled with a dominant paint presence by forward Bryan Morander, led the Indians (11-6) past Hall High School (2-13) by a 67-53 score line in high school hoops last Tuesday night, Feb. 5.
Morander had 22 points and three second half blocks, while Blair exploded for 27 points. The duo's offensive performance proved the deciding factor in a contest in which the Hall underdogs, at various points of the game, made it close, thanks to the scoring efforts of Corey Roth and JaBari Fisher, who had 19 points and 12 points, respectively.
"We weren't doing a very good job defensively," said Indians head coach Scott Wenzel after the game. "We were allowing them to penetrate our man to man, and they had some guys that were knocking down shots."
Blair was a threat with both his perimeter shooting and penetration, while Morander was unrivaled under the basket, swallowing rebounds and delivering consistent buckets off the post-up.
"He did a good job for us down low getting rebounds," Wenzel said.
A 5-0 run in the first quarter, led by Morander, gave the Indians an early 13-2 margin and sent the Warriors into the timeout huddle, twice, to regroup. It seemed to work. By the closing minutes of the second quarter, Hall had cut Newington's lead to 28-25 following Roth's interception of Morander's pass, which he took the other way for the layup bucket. The teams would leave the first half with Newington up 33-25.
Foul and turnover troubles, coupled with timely buckets from Blair, who dished out seven assists as well, stifled the would-be comeback and left the Indians in a comfortable position, leading by more than 10 points, in the closing minutes of the game.
"He made some great decisions," Wenzel said. "He knocked down some great shots, found the open man."