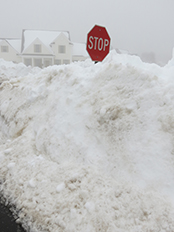 Blizzard Dumps Feet of Snow on the Area
Town employees had been working steadily over the weekend to clear the roads, however each had gotten stuck "at least once in the four-foot snow and resulting drifts," First Selectwoman Mertie Terry said in a statement, adding "roads are passable but in some instances only one lane is open."
Terry said all 19 of Cromwell's highway, garage and parks employees have been working to stay ahead of the needs of the fire and police departments, and the police and fire personnel have been busy assisting with calls.
Terry also urged residents with gas heat to be sure that their outside vent is clear of snow, adding the fire department has responded to calls about gas odors resulting from blocked vents.
In Rocky Hill, cleanup is going as smoothly as possible, given the impact of the storm.
Director of Highways and Engineering James Sollmi said the roads were all cleared as wide as the plows could make them by Sunday and all town buildings are open and functional and all schools are plowed out.
"The guys plugged ahead, they did what they had to do and, to their credit, the rewards were reaped on Saturday and Sunday," he said.
Crews are still busy hauling snow out of areas, but at least now they can take a breath.
Sollmi said he's received a few calls about plow drivers going fast, which he said is usually the result of a build-up of adrenaline and the fact that it's easier to plow now that the sun is out.
"These guys have been working and it's been an intense situation--it's adrenaline," he said. "I tell them, 'Just chill out, we know you're all pumped up here.' It's just a release of energy."